FTC Disclosure: I get commissions for purchases made through some of the links in this article for more information, visit our Advertising Disclosure Page.
Things to Remember when Buying a Used RV over New Models
If you decide to invest in a used RV, it's important to remember certain things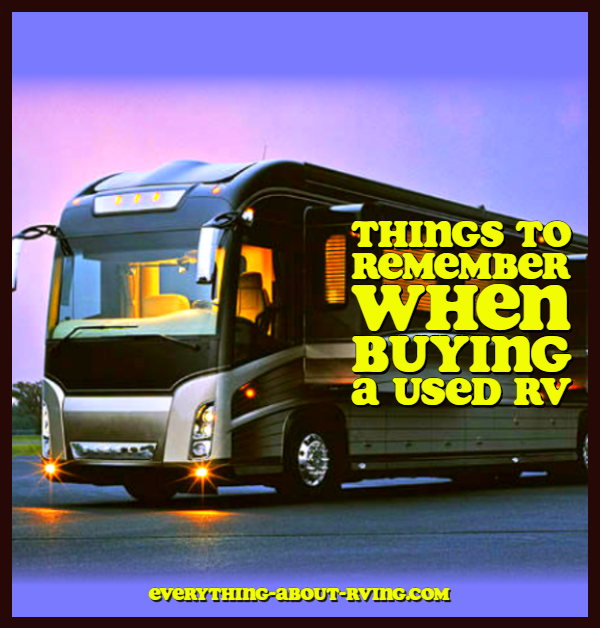 Things to Remember when Buying a Used RV over New Models
By: Elvis Ceasar 
Owning motor homes & campers is something that many dream of. While the brand new and shiny ones are great, you might not be able to afford those always. You should also keep this in mind that you cannot continue to use a recreational vehicle for a long period of time, as the depreciation in value of these vehicles is quite heavy and rapid. This is where the idea of buying used RVs might seem to be extremely feasible. However, if you decide to invest in a used vehicle, it's important to remember certain things. Here are some quick check points to refer to:
Share This Page
Good Sam members enjoy instant discounts on fuel. Join Today!
Check the RV's history – Checking the vehicle's history is one of the first and foremost things to do when you are buying a used RV. Be sure to know about the original owner as well as the registration details of the vehicle in order to avoid any kind of unwanted hassles in the future. 
New VS Used Motorhome – While planning to buy a RV, you might go through a dilemma regarding which one would be the most suitable for you – a new RV or a used one. Apart from being extremely expensive, new RVs might not be able to be customized via the manufacturer. This could lead to more expenses in the future. Moreover, you might have to go through a lot of hassles in order to get the RV shipped in case the local dealer doesn't have adequate stock. 
What's Right for You? - One of the best tricks to determine which RV is right for you is to answer certain questions like how and when you will use it. For instance, if you are planning to use it during the summer, you need to focus on the air conditioner. In case you are buying it for winter, you need to consider the heating features. You should also keep the usage of the vehicle in mind.

Interior Appliances & Accessories – Once you are sure that all the structural issues are fine, you should move on to check the accessories and interior appliances. One of the first things to check is the refrigerator as this can cost around $2000 or even more. If you are thinking that you would simply repair it, it might not be a feasible option either as this too can turn out to be an expensive affair. While checking the refrigerator, remember that lack of cooling is not the only problem; you should also check the temperature regulation. Apart from the refrigerator, you should take a closer look at all the other appliances. Once you are done with the appliances, focus on the interior. Check if the floors, curtains and windows are in a working condition. Be sure to check whether the interior is outdated or not as this might affect your travel experiences to a great extent. 
Mechanical Things To Look For – While buying a used camper van, road safety is one of the most important things that you need to consider. Don't hesitate to crawl under the RV or trailer that you are planning to invest in. If the frame is heavily rusted, you could have structural damage. Be careful to look for any sort of impact damage, broken welds or cracks as any of these can cause a lot of trouble in the future. Apart from these, you should also check the wheels, axles and tires. Try to get the exact age of the tires from the current owner and if these are more than five years old, be prepared to replace them in the near future. 
Pre Owned Coach Benefits – If you purchase a pre-owned coach that's in good condition, it will have its benefits. If there are some small problems, the former owner should tell you about those in advance. You can also utilize the extra accessories like water filtration and satellite systems etc, installed by the former owner. 
These are some of the major things that you need to remember while planning to buy used motor homes & campers or other recreational vehicles. 

About The Author
Elvis Ceasar is a proficient Blogger and a traveling consultant. He has a wide experience and knowledge after having worked in the RV industry. He loves reading travel blogs, goes out on adventurous tours and shares his experience and travel tips too. He is known for the essential guidelines and tips he shares for camping and adventurous trips. Apart from this, he loves listening music, socializing, explore trends and help people in need.

Do you have any suggestions or comments on this topic? You can add them to this page by using the comments section located below.