FTC Disclosure: I get commissions for purchases made through some of the links in this article for more information, visit our Advertising Disclosure Page.
Why You Need a Weight Distribution Hitch
Weight Distribution Hitches are designed to distribute the load equally between your tow vehicle and the trailer you are towing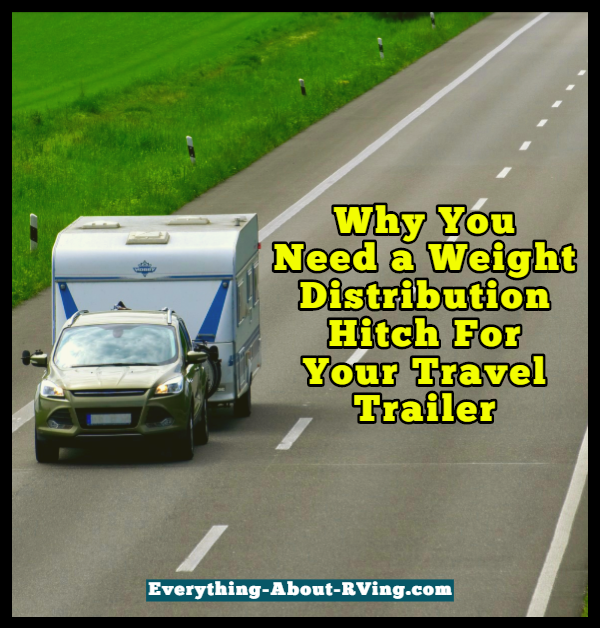 By: Jeremiah Hughes 

Do you like RV'ing in your Travel Trailer (TT)?

You know, the freedom of the road, listening to your children laugh around a campfire down at the local RV resort.
Really getting away from it all... after all, isn't that what RV'ing is supposed to be? Totally relaxing... totally fun.

Like you, Millions of RV'ers will be towing their TT's on the road this summer. Many of them will not be hitched to the truck correctly. What this will cause is a terrible to uncomfortable experience that will make people scared to tow.
Problems with Towing a Travel Trailer
They can have very heavy tongue weight
They are often towed with a lighter weight Tow Vehicle
They may not be very well balanced by the owner
Heavy Tongue Weight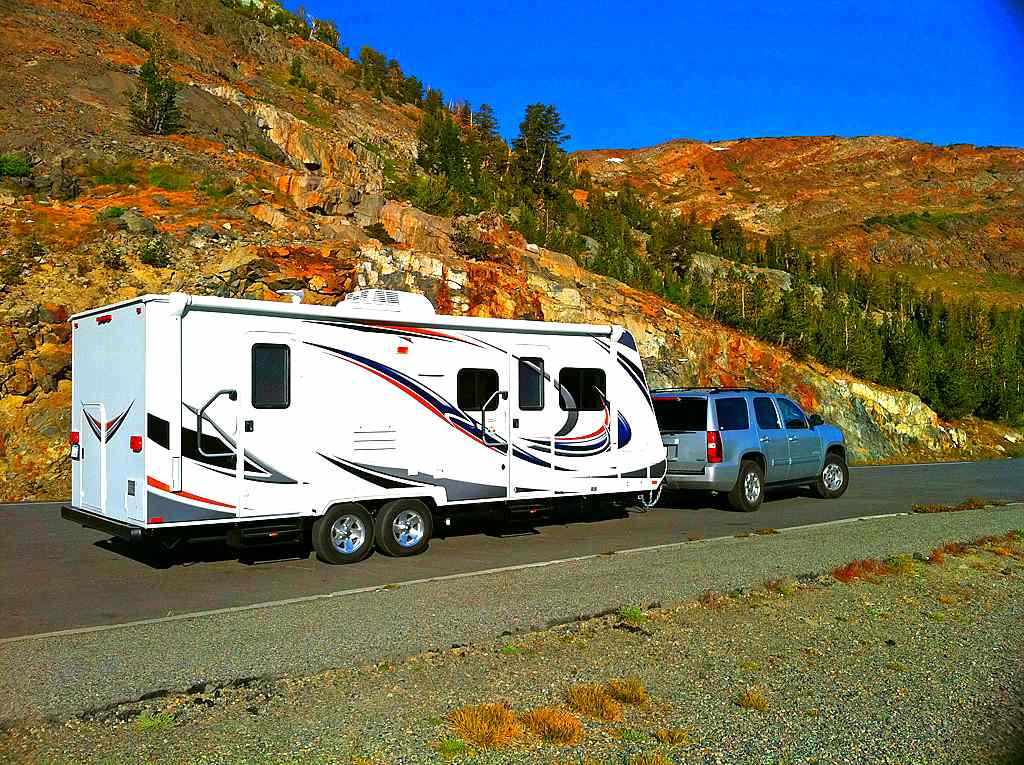 Did you know that your travel trailer will have anywhere from 10-15% of its total weight on the hitch ball? Many RV'ers are surprised to find that their tongue weight is higher than what they think it is. Many RV'ers go by the brochure weight that may say the tongue weight is about 500-600 lbs.
The problem with this is that most dry tongue weights in the brochure do not include the two 30 lb propane tanks and the heavy deep cell RV battery. These items alone can add 100-150 lbs to your trailers tongue weight.
Lighter Weight Trucks
Many people are trying to save money on tow vehicles that save on fuel but are still able to tow fairly heavy trailers. This is great, but many of these trucks can't carry 700-1000 lbs of tongue weight right on the trailer ball without help. The back of the truck sags down too much and the truck and trailer handle terribly.
Unbalanced Trailers
Often times the RV owners will not load the trailers properly. Remember if you load heavy items in the back of the trailer you take tongue weight off the front. This is BAD. You don't want to take too much weight off the trailer tongue. Load your heavier items towards the middle to the front of the trailer as much as possible and keep your lighter weight things towards the back of the trailer.
Weight Distribution Hitches Not Used or Used Improperly
A weight distribution hitch is a special hitch designed to help spread the heavy tongue weight from just the back of the truck to all axles on the truck and the trailer. These marvels of technology do several GOOD things for you.
They restore the front (steer) axle to the factory geometry (no more lights   pointed at the sky)
They equalize the load across all tires of the truck and trailer

They give the driver more control
They improve the handling of the truck and trailer
They give you a much more relaxing tow
Conclusion
Remember that towing should be fun and a weight distribution hitch can help take a lot of the stress out of towing. Most travel trailers have heavy tongue weight and will need one of these special hitches to safely tow.

Towing with a Travel Trailer should be fun and a weight distribution hitch can help you safely tow your RV.

Article Source: Why You Need a Weight Distribution Hitch

Do you have any suggestions or comments on this topic? You can add them to this page by using the comments section located below.