What Is the Best Barbeque Grill for RVing And Camping?
by Dennis Noon
(Las Vegas Nv)
This was submitted on our Tell Us About Your Favorite RV Accessory or Product Page

What is the best bar b que set up for a motorhome?

ANSWER Hi Dennis, I am glad that you have asked this question. Barbecuing and Grilling goes hand in hand with RVing and Camping. I will tell you upfront that our family loves to grill while camping. In our over 3 decades of RVing, we have had several different BBQ Grills. Some were good and some were bad. Some were charcoal grills and some were propane grills.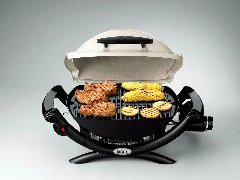 Three years ago I finally found a BBQ Grill that is perfect for our needs and I love it and use it all the time. It's called the
Weber Q-1000 Portable Gas Grill
(formerly the Q-100) (see picture to the left).
This little grill is very sturdy and it cooks everything I throw at it. It heats up very quickly and if you like grill marks on your steaks and hamburgers, just crank this puppy up to high and it sears the meat to perfection. The heat is adjustable enough even to cook items low and slow.This grill is the perfect size for us; it has a 189 square inch cooking area which is enough cooking area for a family of four and puts out 8,500 BTUs of heat. The heat that this grill puts out is very even; there are no hot or cold spots. The cooking grates are quite easy to clean because they are made of Porcelain-enameled cast-iron. These grates are not flimsy like other portable grills that I have used.
The grill can use either 14 oz or 16 oz propane canisters, or you can do as I did and buy the
Weber 6' 1 lb to 20 lb Converter Hose
and hook it up to a
20 lb. propane tank
. The grill weighs around 29 pounds and fits perfectly in the storage compartment of
our Motorhome. I personally give it a 5 out of 5-star rating and the people that have bought this grill from Amazon.com give it an overall rating of 4 1/2 stars.
Oh, by the way, if you are a diehard charcoal griller Weber also has
Portable Charcoal Grills
available.
There are also
larger versions of the Weber Q portable Gas Grills
. Some have fold-out side worktables, and each grill comes with a Weber Q Cookbook and all of them have a limited 5-year warranty.
watch the video below to find out how easy it is to grill the perfect steak on the Weber Q:
My Favorite BBQ Grilling Accessories

The Cuisinart 20-Piece Deluxe Grill Set with Aluminum Carrying Case
Of course there are
Weber Q Grill Accessories
available, but my favorite BBQ Grill accessory is the
The Cuisinart 20-Piece Deluxe Grill Set with Aluminum Carrying Case
(pictured above). I love this grill tool set. The grilling tools work great. The tools are constructed of stainless steel and are easy to clean and most of all, they all fit in a sturdy aluminum case.
I cannot tell you how many times in the past I had to run around the motorhome trying to remember where I put the spatula or tongs so I could start Grilling. Now I store these tools next to the grill in the motorhome storage compartment. No more hunting before cooking.
The kit has twenty essential tools for grilling: A chef's spatula, grill tongs, digital temperature fork, silicone basting brush, four pairs of corn holders, five skewers, cleaning brush with extra brush head are all contained in a durable aluminum carrying case - perfect for RVing or at home. Once you are done with tools, you clean them and securely fasten them back in the carrying case; so, they don't just rattle around in the storage compartment.
Weber Q Recipes
The video below contains several great recipes for the
Weber Q BBQ/Grill
Happy RVing, Grilling, and BBQing.