FTC Disclosure: I get commissions for purchases made through some of the links in this article for more information, visit our Advertising Disclosure Page.
What You May Not Know About Owning an Rv
What You May Not Know About Owning an RV
What You May Not Know About Owning an RV: Read this before buying an RV
RVs aren't for everyone, so before you make any financial commitment, here is what you may not know about owning an RV.

The global spread of Covid-19 may have stopped overseas travel for a while, but it undeniably positively affected the popularity of RVs, prompting a dramatic surge in RV rentals.
Fast forward a couple of years, and while it may now be easier to hop on a plane again, coronavirus remains an ongoing problem. As a result, if you're keen to find a safer and more autonomous way to travel, consider taking the plunge and joining the growing ranks of RV owners and renters.
The Height Needs to Be Right
When choosing an RV, you need to pay close attention to the height of the RV you're considering – particularly if you are on the tall side. It's essential to be able to stand upright comfortably in your RV, especially if you are planning to spend weeks at a time inhabiting it on your travels.
At the same time, you need to think about the roads you will be driving on and whether your RV will be able to fit inside any tunnels or bridges you may encounter along the way. The taller a vehicle is, the more complicated it can be to drive. This is also something to consider, primarily if you have never driven a large vehicle before.

You Could Encounter The "10-Year Rule"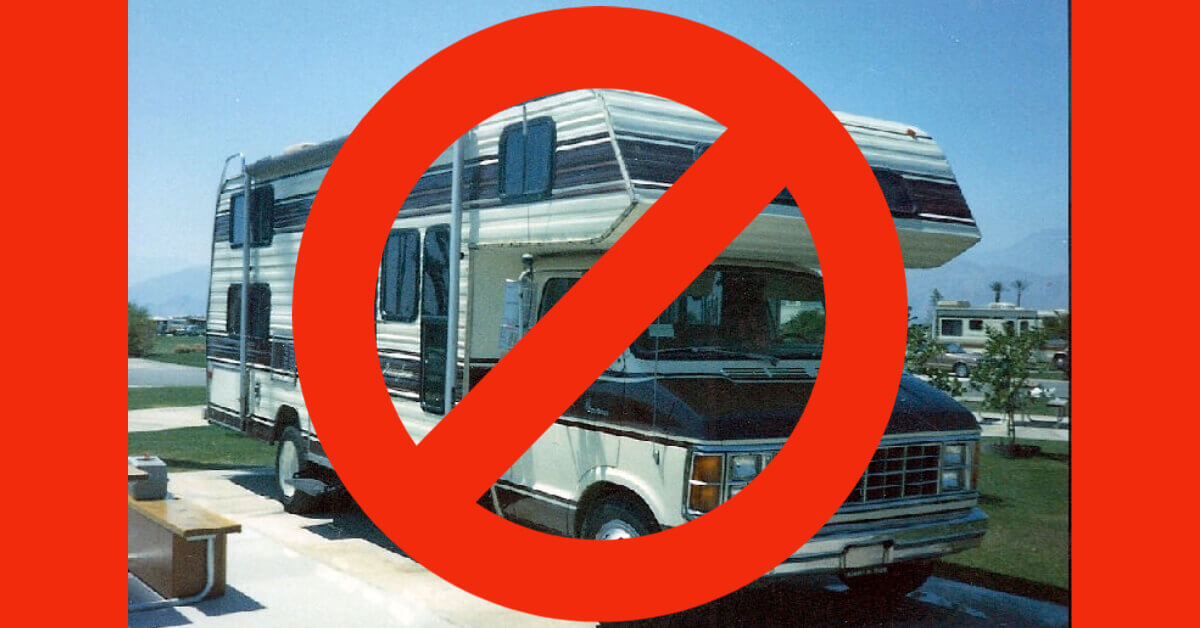 What you may not know about owning an RV is that the age of the RV you choose can impact whether you can book yourself into a particular campground?

While most camping spots will be okay with how old your vehicle is, others prefer not to offer a place to an RV over a decade old. The reasons for this can differ from one campsite to another. Some may worry about the risk of an older RV having an electrical malfunction or breaking down, while other more upmarket spots may simply not like the look of your older model.

Of course, if you still want to rent or purchase a more mature RV, you can bypass the "10-year rule" by making sure your RV looks as well-maintained as possible, with flawless paintwork and gleaming hubcaps.

RVs Can Be Pricey
While you might think an RV is a cost-effective alternative to hotel rooms and air tickets, it may not be as low-cost as you feel.
For one, there is the cost of purchasing the RV. While the price tag for one of these Recreation vehicles can vary widely, the fact is that you're looking at paying anywhere between $6000 and $500,000, depending on your needs. Then there's all the money you will be spending on fuel,  not to mention the maintenance cost and any repairs your RV may require. You must also register your RV with the Department of Motor Vehicles and pay for licensing. As a result, RVs are only sometimes more economical than a hotel room.
You Need to Be Careful About Packing Your RV

As you can imagine, even the largest RVs are limited in storage space, so packing for an RV vacation needs to be done with a great deal of thought and perhaps a healthy dash of ingenuity into the bargain.
As a rule, it's best only to pack the essentials, such as a first aid kit, some clothing, tinned foodstuffs, and any tools you may need to repair the RV should something go wrong. Packing bulky items, which you may not even need, will take up too much room in the vehicle and cause more hassle than they are worth.
Think about the things that can be bought or rented along your route, and leave your own at home; for example, sporting equipment such as bicycles, skis, and golf clubs are easy to rent, so there is no need to try and squeeze yours into a smaller RV.
If Flying Is Essential, You Can Leave Your Motorhome at the Airport

Sometimes flying is unavoidable; for example, if there is a family emergency and you need to get across the country as quickly as possible or if you have an urgent business trip coming up. Or maybe you want to trade your wheels for a pair of wings for your next vacation.
Whatever the reason for having to board a plane, the good news is that you can park your RV at the airport you are departing from and then pick it up when you return. For example, if you're flying out of Newark and need somewhere to keep your RV, Parkway Parking can help you find an array of short and long-term airport parking near Newark Liberty International Airport. You will even benefit from a convenient airport shuttle service.
You Can Install Wi-Fi in Your RV
If you are among the rising ranks of hybrid or remote workers, and you want to work on your files and catch up on your work-related emails while you're on the road, then finding Wi-Fi is important. Many campsites will offer complimentary Wi-Fi, but that doesn't mean the signal will be strong enough for you to send emails or share documents with other remote co-workers reliably.
Fortunately, you can install a Wi-Fi amplifier in your RV to always have a workable connection. All you need is a mobile router, or you can add Cellular Wifi Internet  (Pictured Above) to your RV.
You Will Probably Want A Second Set of Wheels
If you were thinking of trading in your car for an RV, that might not be a good idea. Even with your home on wheels, you will need another vehicle for added convenience and flexibility. While RVs have their merits, they are undeniably bulky and slow, so if you want to make a quick trip and easily find parking in the heart of a town or a busy city, a car is the best way to go. If your RV is a Travel Trailer or 5th Wheel Trailer, you can use your tow vehicle to do your running around. If you have a Motorhome, you can set it up to tow your vehicle behind it.
In Conclusion

Owning an RV does come with some benefits. Now that you understand what you may not know about owning an RV.
There are several factors to consider before you make such a significant commitment. Weigh up your options and requirements and if you still think an RV is the right choice, make sure you take your time and choose the ideal RV for you and your family.