FTC Disclosure: I get commissions for purchases made through some of the links in this article for more information, visit our Advertising Disclosure Page.
5 RV Travel Tips: Essential Guide for a Safe and Enjoyable Trip
Discover the top 5 RV travel tips for a successful road trip. From planning to preparation, make the most of your journey.
Before you hit the road of adventure in your RV, it is a good idea to acquaint yourself with some of the best survival tips to make the most out of your journey. While RV trips can be great fun for the whole family, a little planning and the proper execution will help you enjoy the trip to the fullest. Here are 5 RV travel tips to ensure a fantastic travel experience.

Prep Food Ahead of Time
It is never fun to spend all your free time making meals for the family. That is why it is good practice to prepare as much food as possible before heading out on the open road. For example, do you want to bake some bread and muffins at home before leaving so that you have quick and easy breakfasts ready to go each morning?
You will also save valuable time if you lean on a crockpot for your meals on the road. By doing so, you can prepare the meals ahead of time. Doing as much as possible before you leave will also help you limit grocery store runs, giving you more time for the fun stuff.
Arrive at Your Destination Before Dark
Sign and Drive Coverage with Good Sam Roadside Assistance! Plans Starting at $49.95! Shop Now!
It is a good idea to plan your itinerary to do the bulk of your driving during daylight hours. Driving at night means darker roads and reduced visibility, spelling the potential of disaster when driving a big RV. Drivers are also more likely to encounter wildlife on the road when the sun goes down.
It is also important that you are careful about pulling off the road when you get tired. Do not make the mistake of trying to power through in an attempt to put more miles behind you. Arriving at your campsite early will give you more time to set up your RV while you still have daylight on your side.
Research Your Route and Plan Accordingly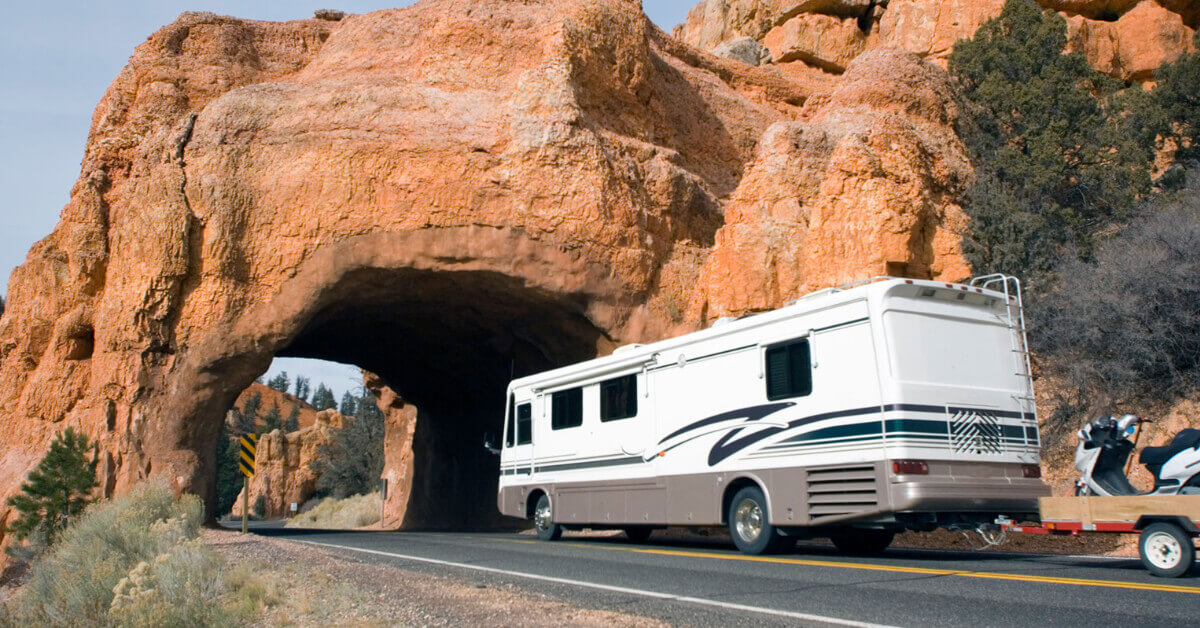 While half of the fun is the spontaneity that an RV trip affords RVers, you also need to take the time to thoroughly research your route and plan accordingly. Be sure to pack a GPS and a good Road Atlas. Getting familiar with your route before heading out will ensure that you have a good plan to stop to rest and to fill up the gas tank.
Although you want to give yourself flexibility on the road, savvy RV road trippers understand the importance of having a rough draft of an itinerary. It would help if you also planned an approximate driving schedule that makes sure that every driver gets sufficient breaks from behind the wheel.
Ensure a Comfortable Sleeping Experience
Let's face it. Nobody will be having an enjoyable time if they are not sleeping well at night. That makes it important that you do what you can to guarantee a comfortable sleeping experience. When looking for the best adjustable bed, you want to choose one that provides proper lumbar support. Do not forget to pack along comfortable bedding. You do not want to skimp on the quality of bedding, or you will not sleep soundly. Just because you are roughing it in the RV, it does not mean that you cannot enjoy premium bedding and a comfortable adjustable bed to go along with it.
Prioritize Safety
You can never be too prepared when traveling in an RV. While you want to be careful not to overpack, you should also be diligent about prioritizing safety. Start by making sure that you bring a well-stocked first aid kid. In addition to various medications, you want to make sure you have items such as gauze, antibacterial ointment, ice packs, and any other essentials that will make it easier to treat minor scrapes and bruises.
A good tool kit is also an essential item to always keep in your RV. A hammer, screwdriver, and wrenches are good tools to keep on hand. Lastly, you will need a roadside emergency kit to handle any unexpected issue on the road.
Conclusion
These 5 RV travel tips will help you to enjoy the best parts of RV travel for a safe and enjoyable travel experience.