FTC Disclosure: I get commissions for purchases made through some of the links in this article for more information, visit our Advertising Disclosure Page.
5 Best Arizona Lakes
Arizona has 128 lakes, here are the 5 best Arizona Lakes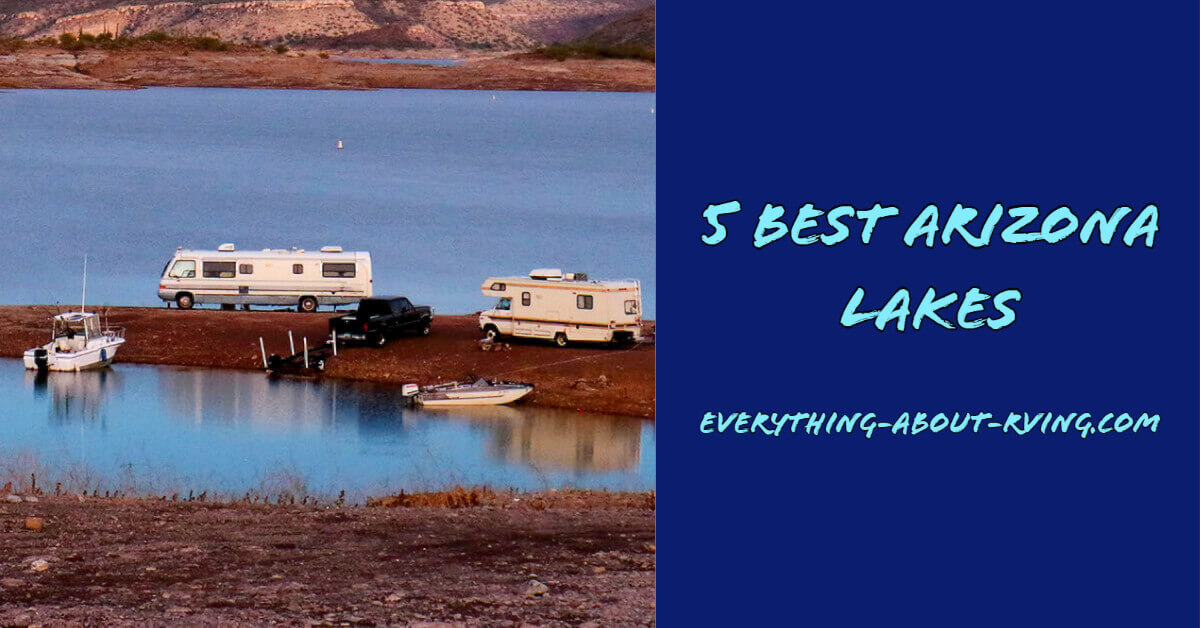 Arizona, also known as the Grand Canyon State, is known for sweltering summers and wildlife, including coyotes and mountain lions. The 48th state is unique as its northern part features forests, mountain ranges, canyons, moderate summer temperatures, and significant winter snowfalls. In contrast, the southern part has a desert-like climate, scorching summers, and mild winters.
Share This Page
Save 10% on campground fees when you become a Good Sam member Today!
The state of Arizona has many natural wonders. It has national forests and parks, including the Grand Canyon National Park, which is the location of the famed red-rock hills. Arizona abounds with natural attractions, with 128 lakes and five major rivers perfect for skiing, fishing, rafting, and other activities that beckon outdoor enthusiasts.
So, if you are looking for places to visit this year, plan your next boating adventure at one of Arizona's great lakes.
1. Theodore Roosevelt Lake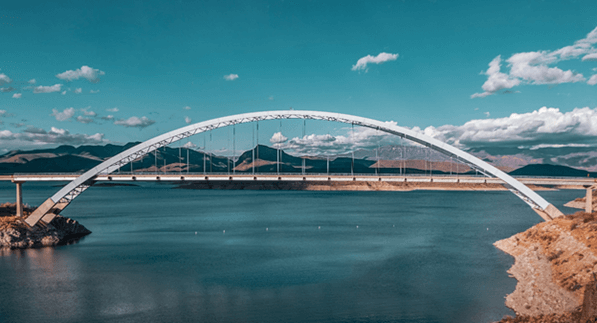 Location:  Roosevelt Lake is approximately eighty miles northeast of the Phoenix metropolitan area.

Named after former President Theodore Roosevelt, the lake is a large reservoir located in central Arizona and the state's largest lake. Those with fishing boats, sailboats, and houseboats dock here and call this lake their home.

The lake is also known for fishing, with various game fish living in the water, including carp, bass, and catfish. It is also home to the Neotropical migrant bird, the willow flycatcher. In addition, visitors can go hiking or cycling via the Arizona National Scenic trail, rent boats from the marina, and camp in one of the many camping facilities in the area.
Save 10% on campground fees when you become a Good Sam member Today!
2. Lake Pleasant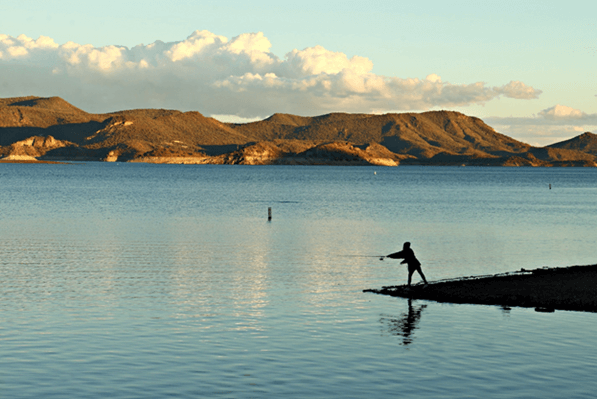 Location: Lake Pleasant sits about 30 miles north of metropolitan Phoenix.

Lake Pleasant is the biggest lake in Phoenix. It is located in North Peoria, 45 minutes away from downtown Phoenix and is a haven for people who love to do water activities. Of the numerous Lake Pleasant activities, you'll enjoy boating, swimming, fishing, kayaking, sailing, and even house boating. Visitors can also go hiking, explore the Discovery Center at Lake Pleasant Regional Park, buy souvenirs, attend festivals, go camping, and stargaze.
3. Canyon Lake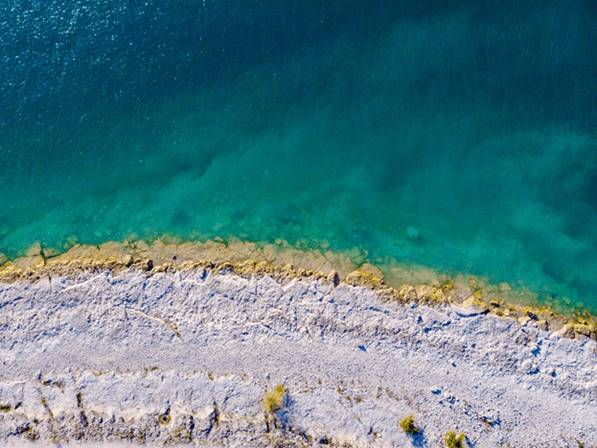 Location:  Located 15 miles northeast of Apache Junction, you'll find Canyon Lake along the old Apache Trail.

Canyon Lake is an artificial or man-made lake, created in 1925 with the damming of the Salt River. It spreads 380 hectares and is the smallest lake that sits along the Superstition Mountains.

The lake is famous for recreational activities. Topping the list are hiking, camping, scuba diving, jet-skiing, and boating. Game fishing is also a popular activity because species like the rainbow trout, largemouth bass, yellow bass, carp, and walleye swim there. Visitors can also enjoy the view of the lake with the impressive Superstition Wilderness Area as its background.

Save 50% Off of Campsites with Passport America

4. Apache Lake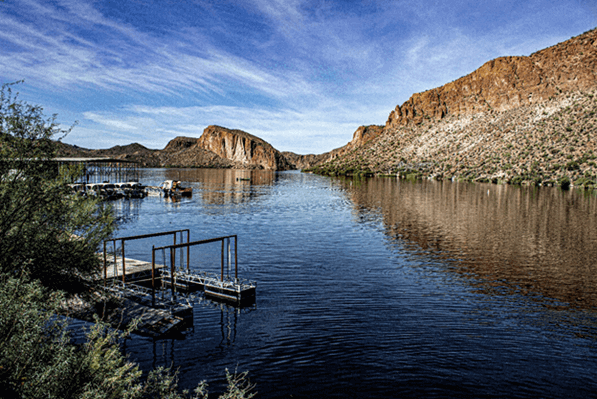 Location: Apache Lake is located about 65 miles northeast of Phoenix. It lies between Canyon Lake and Roosevelt Lake, considered its sister lakes on the Salt River.

 Apache Lake is one of the four reservoirs that sit along the Salt River and the Apache Trail in the Tonto National Forest. It was created by the Horse Mesa Dam and is 17 miles long, making it perfect for boating, fishing, water skiing, hiking, and camping. In addition, the land surrounding the water is home to javelin, bighorn sheep, deer, and other desert wildlife.

Fishing is also a popular activity within its waters, with largemouth and smallmouth bass, crappie, and walleye as some of your potential prized catches. If roughing it is not your idea of spending a day on the lake, there are three hotels available along the shoreline, as well as several trails you can easily hike into.

5. Saguaro Lake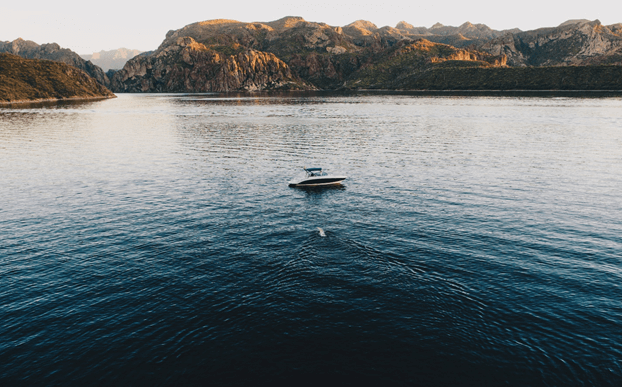 Location: Saguaro Lake is 20 minutes away from Mesa, Arizona, and lies 40 miles east of downtown Phoenix.

Saguaro Lake is another reservoir along the Salt River within the Tonto National Forest. Created in 1930 with the building of the Stewart Mountain Dam, this lake is designed to control water in its desert location.

Aside from its primary function, it is a picturesque lake surrounded by natural landscapes that visitors are sure to enjoy. With the plethora of fish that live there, including tilapia, bass, rainbow trout, and more, the site is perfect for fishing enthusiasts. You can also try your hands at kayaking, water skiing, sailing, and jet skiing.

Along the lake's shoreline, you'll find amenities like restaurants, boat ramps, restrooms, and picnic tables. Butcher Jones Beach offers an area where visitors can swim and enjoy a picnic, too.

In Closing
If you are looking for relaxation, great fishing, boating, and camping, these Arizona Lakes will not disappoint. So go out and create some great memories.