FTC Disclosure: I get commissions for purchases made through some of the links in this article for more information, visit our Advertising Disclosure Page.
5 Key Things To Know Before Buying an RV
Here are five great tips to keep in mind when buying an RV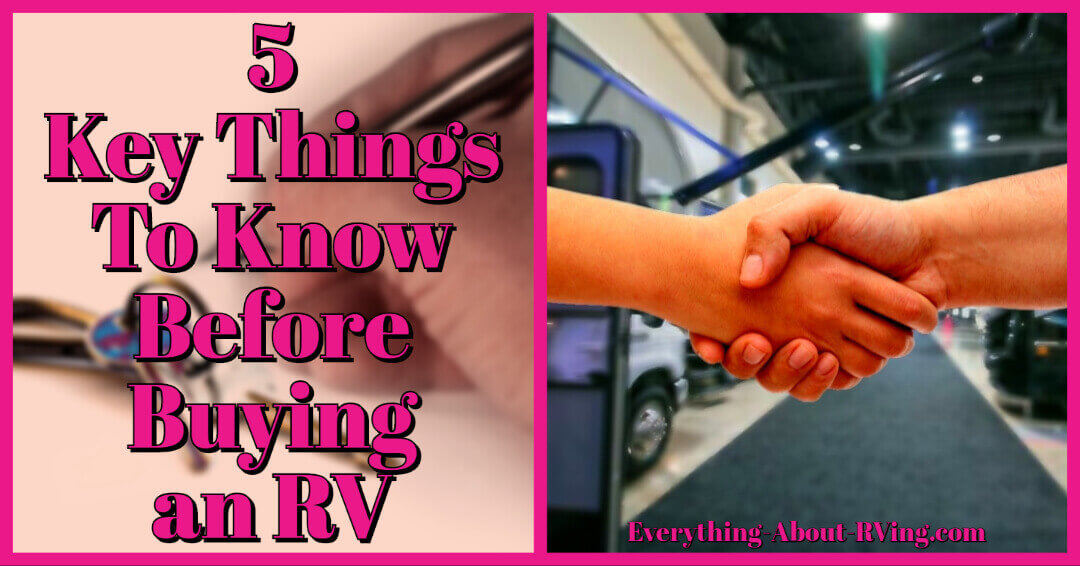 By Kevin Gardner
Ready to see how an RV can enhance your vacation experience? Before you make this major purchase, there are several important things you need to know. Here are five great tips that you absolutely must keep in mind as you shop for an RV.
Share This Page
Save 10% on campground fees when you become a Good Sam member Today!
1. Consider Your Budget
When you begin your RV search, it's important to set a budget and stick to it. Some fully loaded RVs can cost even more than the average house, so it's important to set a ceiling on your spending. While you're searching, visit several dealer lots and browse the stock of new RVs. As always, haggle with the dealer to get the MSRP down if you choose to buy new. If a new RV doesn't fit within your budget, consider buying used. As soon as you drive it off the lot, an RV typically loses around 25 percent of its value. If you buy a nearly new RV from an owner who keeps meticulous service records, you'll be able to save quite a bit of money while also having the peace of mind that your RV is in excellent condition.
2. Know Your Towing Capacity
If you plan to tow your RV behind an SUV or truck, you need to make sure your vehicle has the capacity to tow whatever RV you decide to buy. Check your vehicle manual to figure out how much weight it can safely tow. There are several different acronyms you'll need to know as you discover your vehicle's safety ratings. Most importantly, make sure the RV you purchase has a Gross Vehicle Weight Rating that is less than your vehicle's trailer rating. If the numbers work, you'll be ready to hit the road!
3. Think About Space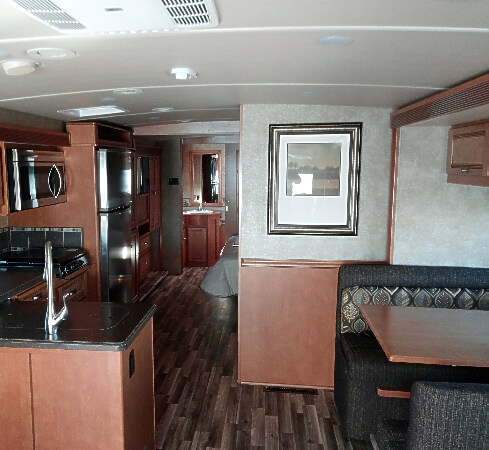 You already know that an RV is much smaller than your typical living space. As you go about your RV search, choose a model that has enough space to suit your needs. If it's just you, a teardrop trailer will allow you to vacation comfortably. For families, a larger RV with a kitchen, bathroom and small living space with slide outs to make the space bigger when you're parked. The most important aspect you need to think about concerning space is having enough sleeping spaces for everyone you need to accommodate. If you have a large family, you'll likely need to purchase a large trailer or motorhome with a dedicated bedroom space, as well as a set of bunk beds and a pull-out couch.
4. Think About Features
As you choose the best RV for you and your family, take complete stock of your must-haves and your wants. It's almost like purchasing a house! Write down a list of the features you absolutely need to have and the options that would be nice to have. Comfort should always be a priority, so it might be a good idea to purchase an RV with a built-in heating and cooling system. In addition, you'll likely want a comfortable bathroom onboard your RV. As you shop, think about convenience and privacy when it comes to bathroom placement in each RV you tour. It's perfectly fine to be picky or specific, after all, this is a significant purchase and you want to get it right.
5. Purchase the Right Insurance
Sign and Drive Coverage with Good Sam Roadside Assistance! Plans Starting at $49.95! Shop Now!
Before you buy an RV, you need to have a thorough knowledge of the insurance coverage options available to you. RV insurance will depend on the class of your vehicle and how much you plan on using it. Coverage typically covers the same risks that auto insurance does, plus additional protection for your belongings and various on-board equipment. Be sure to get a variety of insurance quotes before you make your purchase in order to find the right policy to secure your investment!
Buying an RV is a big decision, but it's a decision that can significantly improve your lifestyle. By following these tips, you'll be ready to choose the best RV for your needs and be ready to hit the open road!

Do you have any suggestions or comments on this topic? You can add them to this page by using the comments section located below.