FTC Disclosure: I get commissions for purchases made through some of the links in this article for more information, visit our Advertising Disclosure Page.
Best Places To Campervan
In California
It should come as no surprise that California has some of the best camping sites for Campervans in the U.S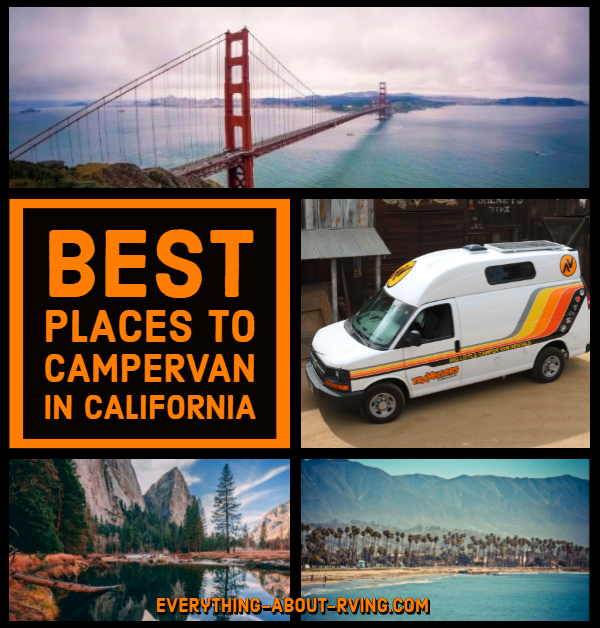 By Travellers Autobarn
It should come as no surprise that California has some of the best camping sites in the U.S., if not the world. The Golden State features nine national parks, including the iconic Yosemite; 840 miles of coastline; and wonders such as the world's tallest trees and the hottest place on the planet. There are dozens of fantastic campervan and RV campgrounds in California, but here are seven of the best.
1. REDWOODS RV RESORT – CRESCENT CITY
The California Redwoods are some of the most amazing natural wonders in the world, and Redwoods RV Resort, located in Crescent City, offers one of the best ways to see them. The newly-renovated resort is nestled among spruce, hemlock, Douglas fir, and Redwoods, and is situated just minutes from Redwood National and State Parks, Redwood National Forest, Del Norte Coast Redwood State Park, and Jedediah Smith Redwood State Park.
The park's 80 sites have full hookups and 50 amp electric; restrooms, hot showers, and laundry facilities; a playground; and an on-site store. They also provide tent camping, for those who want to get back to basics, and fully-furnished rental cabins, for campers wanting a little more space.

2. BIG FLAT CAMPGROUND – SIX RIVERS NATIONAL FOREST
To truly get away from it all, head to Big Flat Campground in northern California's Six Rivers National Forest. Big Flat has no hookups or facilities, so it's pure dry camping, but the campground more than makes up for its rustic offerings with its surroundings. Campers are surrounded by pristine forests, streams, and wildlife. You can reach Hurdygurdy Creek on foot and South River Fork is half a mile away. Note that Big Flat Campground is only open in the summer.
3. OCEAN MESA AT EL CAPITAN – SANTA BARBARA
One of the best RV parks in Southern California is Ocean Mesa at El Capitan, Santa Barbara, about two hours from Los Angeles. Ocean Mesa's location along the famed 101 makes it ideal for exploring southern California. The park features full utility hookups, pull-through and back-in sites, and can accommodate rigs up to 50 feet long. Other amenities include Wi-Fi and cable TV, a fire pit and grill at every site, a heated pool and spa, laundry facilities, and a general store.
4. SAN FRANCISCO RV RESORT – SAN FRANCISCO
For a true California experience in your RV or campervan, consider San Francisco RV Resort, which is perched on cliffs overlooking the Pacific Ocean and situated only 15 miles from some of San Francisco's most famous sites, including the Golden Gate Bridge, Half Moon Bay, and Alcatraz. In terms of location alone, San Francisco RV Resort is one of the best RV campgrounds in California: campers are treated to spectacular views of the ocean (and sunsets) and are just steps away from the beach.
The resort offers full hookups at most sites; restroom, shower, and laundry facilities; and a picnic and barbecue area. Amenities include an outdoor pool and hot tub, clubhouse, and playground. There are 162 paved and level campsites—all of which are oceanfront. Note that the sites right on the ocean have no hookups.
5. BLUE HERON RV PARK – HORNBROOK
If you're looking for a quiet, secluded campground with fantastic scenery, Blue Heron RV Park is an excellent option. Located on the banks of the Klamath River, Blue Heron is one of the most beautiful RV parks in northern California, with most sites facing the river. The park has paved streets; large concrete pads and patios; full hookups; and restroom, shower, and laundry facilities. Activities include skiing at Mt. Ashland Ski Park; hiking, biking, and birdwatching; and fishing from the banks of the Klamath River and Iron Gate Reservoir.
Blue Heron is located in Hornbrook, about as far north as you can get in California. The park's secluded location means that you must bring your own food, as there are no restaurants nearby!

6. CAVA ROBLES – PASO ROBLES
Nestled in the Paso Robles wine region is Cava Robles, which offers a more upscale camping experience. Guests have complete access to the resort's pools, spas, wellness center, and restaurant, as well as activities such as outdoor movies and—of course—wine tasting. Campsites are spacious and feature full hookups, a picnic table, fire ring, and concrete patio. You can also bring your furry loved one; Cava Robles is pet-friendly and has a dog park.
7. NORTH PINES CAMPGROUND – YOSEMITE NATIONAL PARK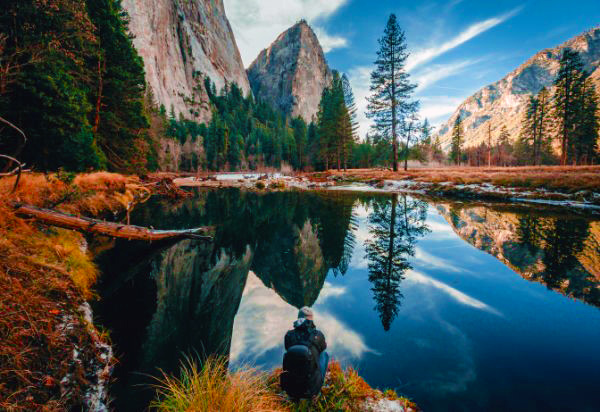 Yosemite National Park, a three- to four-hour drive from San Francisco, offers some of the most beautiful scenery in the world, as well as some of the best camping in California. Visitors can soak in Yosemite's wonders through a range of outdoor activities including hiking, backpacking, climbing, horseback riding, fishing, and more.

North Pines Campground is one of three reservation campgrounds in Yosemite Valley, situated right in the heart of Yosemite National Park. North Pines is on the banks of the Merced River and features 81 single-family campsites for tents, RVs (up to 30 feet long), and trailers. The roads and parking pads are paved, and there are flush toilets, drinking water, and an RV dump station. Campers can grab a meal and take a hot shower at nearby Curry Village. Note that North Pines Campground opens in April and closes in early November.
About The Author
Travellers Autobarn is a Campervan & RV Rental company. We offer campervan & RV rentals from 3 locations in the U.S.- Los Angeles, Las Vegas & San Francisco. As a proud & well-established campervan company, Travellers Autobarn (est. 1993 in Australia and 2016 in New Zealand) offers the perfect road trip experience all around America. Whether it's a weekend getaway or an epic road trip from Los Angeles to San Francisco – you'll have the time of your life! All of our rentals include UNLIMITED FREE MILES!
Do you have any suggestions or comments on this topic? You can add them to this page by using the comments section located below.