FTC Disclosure: I get commissions for purchases made through some of the links in this article for more information, visit our Advertising Disclosure Page.
Fun Filled Family RV Destinations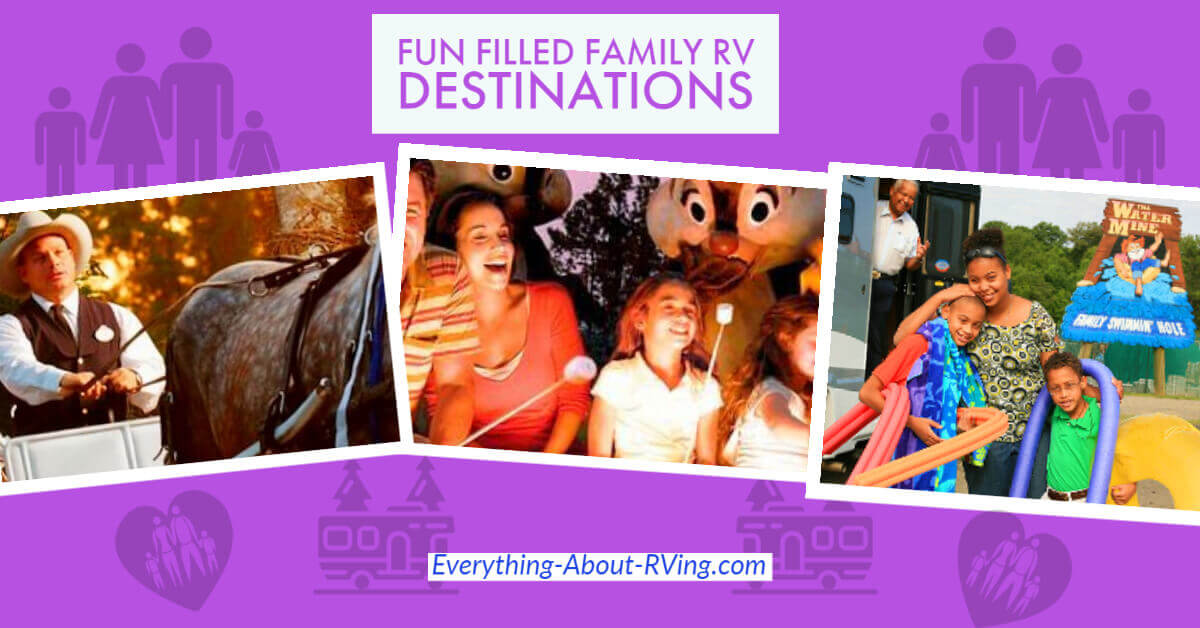 By: Bill Weston
When you are planning your family's next vacation, consider taking a trip to one of these great family RV destinations
RV vacations offer families a unique vacation opportunity that costs up to thirty percent less than other vacation travel methods. Traveling to your family vacation destination in an RV is a wonderful way to spend time together as you enjoy the sights and adventures of the road.

When you can relax in the comfort of an RV instead of being cramped into a car together, the journey itself becomes part of the fun. Traveling by RV reduces costs associated with air travel, hotel rentals, car rentals, and eating out.
Below is a list of four great family vacation destinations that you can drive to in an RV together to create great family memories.
Disneyland or Disney World
Two of the most beloved and popular theme parks in the world, these are the gold standard of family entertainment. Whether you choose to go to Disneyworld in Florida or Disneyland in California, you and your family are in for a fun time.
These parks offer world class rides, attractions, dining, and recreation. There is so much to do, each member of the family is sure to find something to entertain them.

Traveling to the parks by RV is a fantastic way to save some money on hotel stays and make it a bit more of an adventure. You can choose to make stops along the way at places that interest your family.

Yellowstone National Park
Yellowstone is the park that started the concept of National Parks. The place was so beautiful, it was decided that there must be a way to preserve it for all future generations. Yellowstone offers so many unique experiences for your family to enjoy.
You can get up close to the wildlife like nowhere else, see geysers and other unique geological features,  take hikes through the stunning wilderness, and take informative and fascinating tours that relay the amazing natural attributes and history of the park.
Washington, DC
Our nation's capital is brimming with history and attractions that your whole family can appreciate. Being the political capital of the free world and the seat of our national government, DC is a fascinating place to visit.
You can tour the White House, visit the national mall, see the Lincoln Memorial, and pay your respects at the World Trade Center site. Washington DC also has a plethora of museums. The Smithsonian has nineteen museums and galleries in DC as well as a Zoo.
These will surely provide your family with more than enough to see and do while you tour DC in your RV.
Grand Canyon National Park
The vast natural beauty and stunning sites of this natural wonder of the world are something that must be experienced in person to truly appreciate. The canyon is over 270 miles long, eighteen miles wide, and over a mile deep. It took over two billion years for water of the Colorado River to cut the canyon out of the Colorado Plateau.
Beyond viewing its natural beauty, there is plenty for your family to see and do. The area offers bus tours, ATV tours, horseback tours, hiking, fishing, camping, rafting, and miles and miles of scenic drives.
Your family will have the time of their lives in this natural playground that is like no other place in the world.
So, when you are planning your family's next vacation, consider taking an RV trip to one of these great destinations. Families have been enjoying these places together for years, and I am sure your family will build lifelong memories of them as well.
About The Author
Bill Weston is an avid adventurist and outdoorsman who loves hunting, fishing, hiking, camping, writing, and good conversation with new and interesting people. Bill blogs on the topics of the RV lifestyle and outdoor recreation for Lakeshore RV, a premier RV dealer.
Return To The RV Lifestyle Articles Page From The Fun Filled Family RV Destinations Page