FTC Disclosure: I get commissions for purchases made through some of the links in this article for more information, visit our Advertising Disclosure Page.
How to Build Your RV Emergency Kit
How to Build Your RV Emergency Kit
Image link: https://www.pexels.com/photo/first-aid-and-surival-kits-5125690/
By Will Cotter
Be ready for whatever, whenever. Check out this comprehensive guide on how to build your RV emergency kit
Anything can happen when you're traveling, especially on the road and camping in off-the-grid locations in your RV. You must be prepared for every emergency, from losing access to food and water to sustaining minor injuries while exploring or doing the most menial tasks. If you still don't have one, here's a comprehensive checklist on how to build your RV Emergency Kit.
The video below gives you an overview of what is covered in this article. You can read the whole article to get all of the information you need.
Emergency Drinking Water

A backup supply of clean, drinking water will come in handy if you're hiking up the mountains or sheltering in place because of a storm and other inclement weather conditions. The U.S. Centers for Disease Control and Prevention (CDC) has the following tips for creating and storing emergency drinking water.
Buy commercially bottled water and store at least 1 gallon per person per 3 days for drinking and sanitation.
Invest in a life straw, which you can use to filter water from lakes, rivers, streams, and other bodies of water.
Prepare more water if you are headed somewhere with a hot climate or traveling with pregnant women and persons with special medical conditions.
Observe the expiration date of store-bought bottled water. Use expired ones for washing instead. 
If you're packing water using your own water pouch or container, discard it every six months. 
Chlorine or water purification tablets, such as Aquatabs, are also recommended for killing bacteria and microorganisms in bodies of water.
Three-Day Food Supply

Have an emergency stash of food supplies separate from what you plan to consume during your stay in the RV. Store food items with longer shelf life and in single-serving packaging to avoid spoilage. In addition, make sure you account for supplies that can accommodate everyone in your RV. Go for food items that you would typically eat.
Here are some examples.
Crackers, dry bread sticks, melba toast, cookies
Ready-to-eat cereals
Granola and energy bars 
Sundried tomatoes 
Fruit leather roll-ups
Turkey or beef jerky
Canned goods (for example, canned fruits, canned tuna, canned soup, canned chili, canned luncheon meat, canned beans)
MREs are also an excellent choice.
In addition, if you're RVing with a pet, make sure you've also packed sufficient emergency pet food and water for them.
Create an emergency food supply that will last them for several days stored in airtight containers
Include collapsible food and water bowls
Replace and replenish your stocks every six months.
Foil Survival Blankets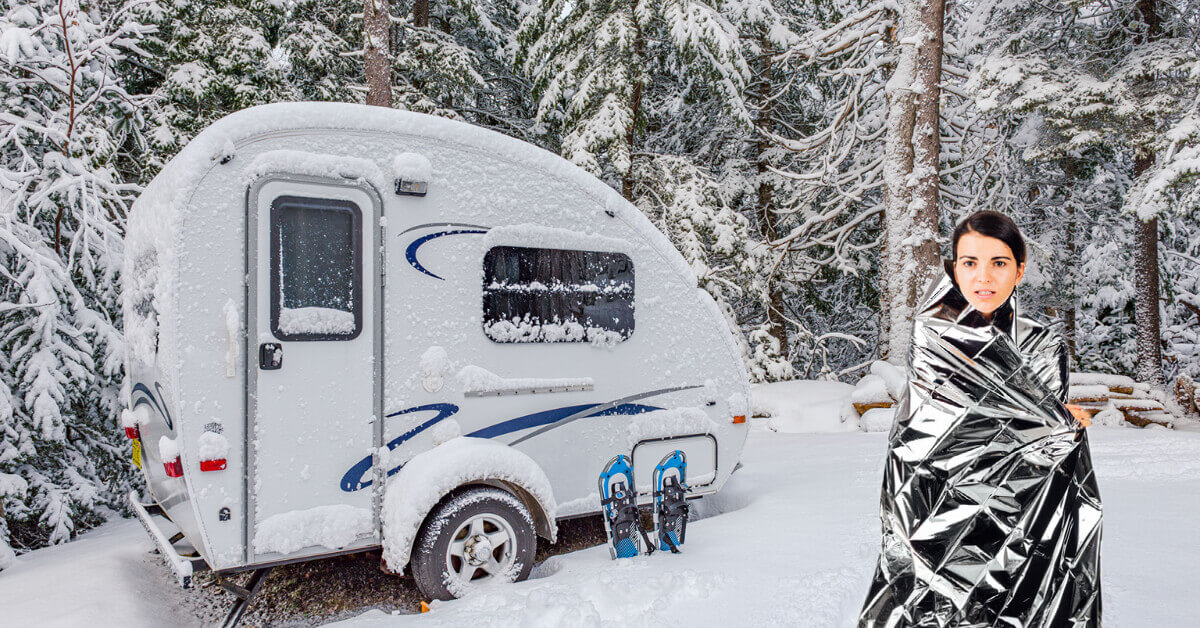 You'll never know what will happen when you're on the road. But one of the worse things is probably being stuck somewhere cold and damp with soaking wet clothes. Foil blankets, also known as space blankets or Mylar blankets, can protect you from potential hypothermia in these conditions. Get high-quality ones that are durable and reusable for each person in your RV.
Flares and Safety Whistles

Whether to ward off intruders or wild animals, like bears, or call out for help in critical situations, flare guns and safety whistles are absolute must-haves in your RV emergency kit. Go for high-powered signaling devices that can be heard or seen from a great distance.
Safety Vests

Invest In a safety vest for each member of your family. Its reflective color will make you visible, protect you at night from getting hit by cars in case of a roadside emergency, and make it easier for rescuers to spot you during disastrous situations.
Excellent Weather Emergency Radio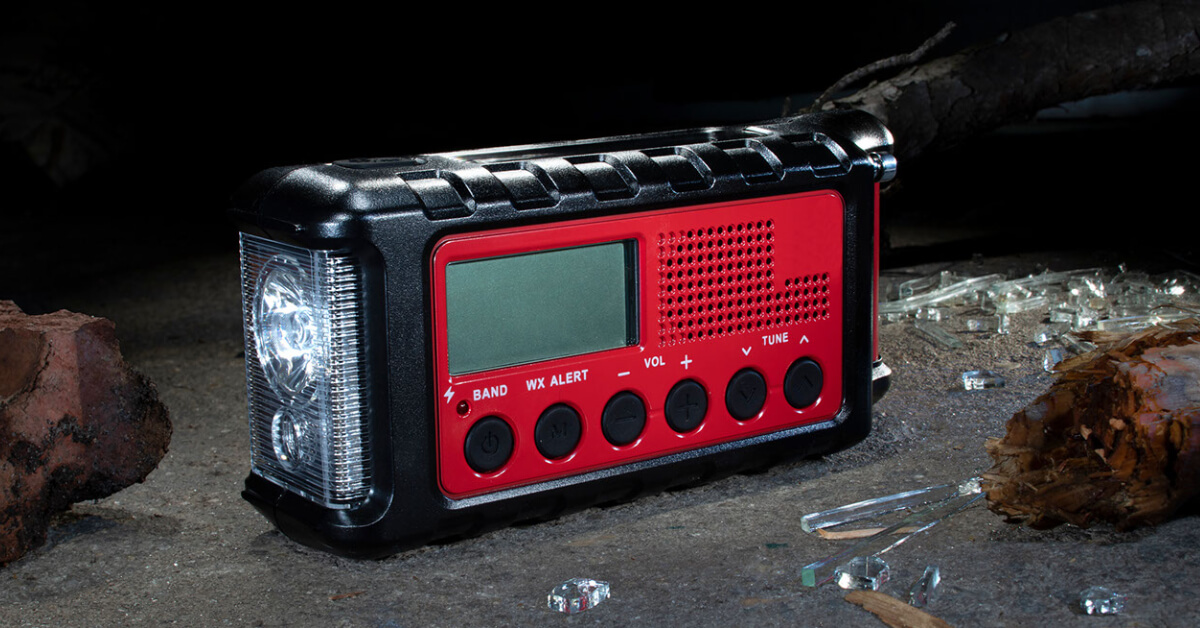 The storm and weather apps on your mobile phone may not be available in times of major calamities. Always have battery-operated weather emergency radio and extra batteries in your RV, so you're always prepared no matter what.
Good Sam Travel Assist: Emergency coverage for you, your family, and pets. Plans Starting at $59.99 Shop Now!
First Aid Triage Medical Supplies

Lastly, your RV emergency kit should have first aid medical supplies covering minor sprains, burns, cuts, or allergy attacks. It would help if you had everything needed to cleanse and dress wounds and minimize the pain until help arrives. 
These include:
Antiseptic wound cleanser and wipes
Sterile non-stick gauze pads and rolls of different sizes
Hypoallergenic surgical adhesive tape
Alcohol swabs
Cotton balls or cotton swabs
Antibiotic cream/ointment
Calamine lotion and aloe vera gel for sunburn and insect bites
Hydrocortisone cream
Liquid saline solution
Ice packs
Surgical gloves
Splint(s)
Thermometer 
Oximeter 
Surgical masks
Surgical hand gloves 
Antacids
OTC medicines, like paracetamol, anti-diarrhea medication, cough, and cold meds
OTC anti-inflammatory and pain relief medication like ibuprofen (Advil, Motrin IB) and acetaminophen (Tylenol)
OTC allergy drugs
Oral rehydration salts 
Aspirin, which according to Mayo Clinic, can be life-saving for unexplainably severe chest pains that could be a heart attack
If you have an existing medical condition, it's best to stock up on a three-day supply of your prescription drugs for emergencies. 
Other Essential Emergency Tools 

When living or traveling in an RV, you should be prepped for unexpected situations, like roadside breakdowns and repair emergencies. While you don't need loads of tools, it's still good to know you have all sides covered. Here are some of the basic tools you can start with.
Screwdriver
Allen wrench
Tape measure
Duct tape
Electrical tape
Collapsible shovel
Flashlights and headlamps
Hammer
Screws and nails in assorted sizes
Portable hand drill
Road reflector
Wheel chocks
Ice brush or snow scraper
Butyl sealing tape for leaky windows
Heavy-duty plastic tarps
Hopefully, this checklist has guided you on how to build your RV Emergency kit.
About The Author
Will Cotter is a certified wanderlust. He works remotely and runs his professional cleaning company, HappyCleans. Will loves all things travel and adventure and plans to go on an epic and scenic campervan journey soon.