FTC Disclosure: I get commissions for purchases made through some of the links in this article for more information, visit our Advertising Disclosure Page.
Improve Cell Phone Coverage in Your Rv
Improve Cell Phone Coverage in Your RV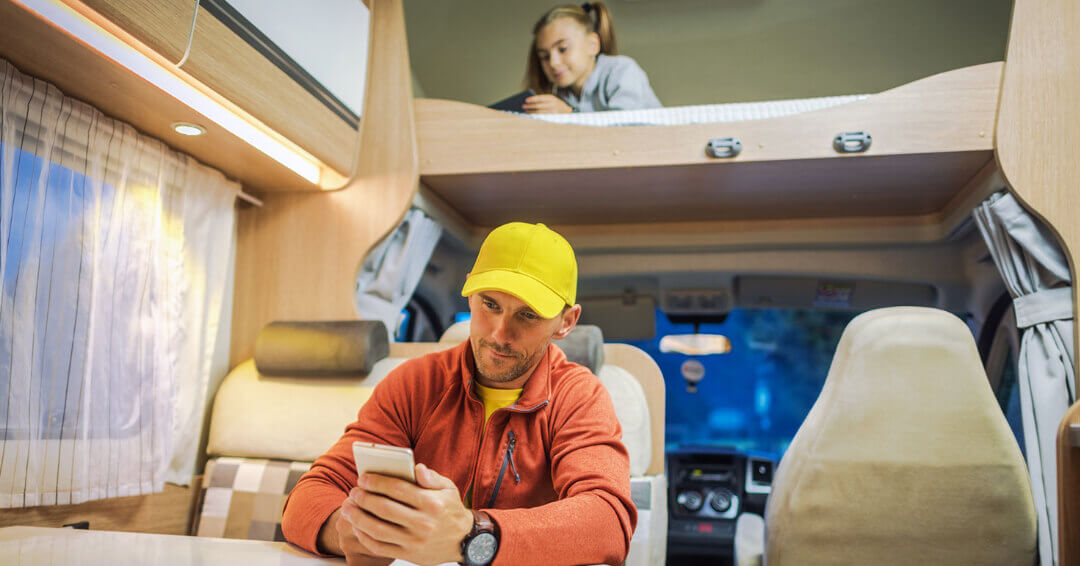 Here is How to Improve Cell Phone Coverage in Your RV

Do you have poor cell phone reception in some areas while RVing? This article will tell you how to improve Cell Phone coverage in your RV. Bad or poor cell phone reception is caused by two major factors.
Share This Page
Save 10% on campground fees when you become a Good Sam member Today!
Distance from the cell tower
If the distance from your location to the cell tower is extremely far, you are most likely to receive a poor cell phone signal.
When you are RVing, you are constantly moving from one location to another. and not always in an area that has a lot of cell towers. The further you are from a cell tower the weaker your cell signal will be. If you are camping in a rural area cell phone towers will be few and far between.
Solution
To prevent bad cellular coverage and dropped calls, investing in a good  signal booster like weBoost Drive Reach RV - Cell Phone Signal Booster  is the best solution.  A Cell signal booster improves cellular coverage inside your RV. Most good cell signal boosters have antennas that you mount to the exterior of your RV. These exterior antennas improve cell phone tower reception to the RV.
When the external antenna receives a cell phone signal it sends it to the amplifier. The amplifier increases the signal strength and transmits it to the antenna inside your, which then broadcasts the strengthened signal to your smartphone.
Obstructions
This could be anything blocking your signal. Many factors can reduce cell phone reception. This could include forests, mountains, tall and large buildings, trees, construction materials and it could also be your RV. Most RVs are made of some combination of metal (typically aluminum) and fiberglass, and both materials disrupt the strength of cell phone signals.

Solution
Because of the external antenna, signal booster and internal broadcasting antenna included with weBoost Drive Reach RV - Cell Phone Signal Booster, you will get the best cell signal available in your RV.
When you have an emergency while RVing, the most important thing is to stay connected. That's why as an RVer you should always be prepared to stay connected even in places with poor reception.

Cell boosters consist of four main parts: the outside antenna, the booster/amplifier, the inside antenna, and connecting cables. Combining these parts together will boost your coverage in your RV

weBoost Drive Reach RV - Cell Phone Signal Booster kit
Reaches the farthest cell towers and boosts signal for multiple devices. Power 50 watts
Compatible with all U.S. carriers, including Verizon, AT&T, T-Mobile, and UScellular
Supports the latest in 5G technology, providing the best speed and service possible on any smartphone
FCC approved with 50 dB max gain
weBoost provides expert U.S.-based customer support through our app, chat, phone, or email, and they guarantee their products with a two-year warranty
Watch the video below to see how the weBoost Drive Reach RV - Cell Phone Signal Booster works.
The video below walks you through the step by step installation of the weBoost Drive Reach RV - Cell Phone Signal Booster in your RV.