FTC Disclosure: I get commissions for purchases made through some of the links in this article For more information, visit our Advertising Disclosure Page.
Idaho's
Lost RV Park
Enjoy Central Idaho mountains

Enjoy Central Idaho's mountains with beautiful forests, lakes and streams
Enjoy Central Idaho's mountains with beautiful forests, lakes and streams.  It's the perfect place to go RVing, camping, fishing, boating, kayaking, picking berries, looking for mushrooms or just enjoying nature.
Nestled between Council, Idaho and New Meadows, Idaho on Highway 95 is the Pineridge Café (pictured above) and store where you can grab a bite to eat.  Saturday is Prime Rib night.

Within 2 ½ miles is the Lost Valley Reservoir where you can catch some Perch or Trout or just enjoy the Lake.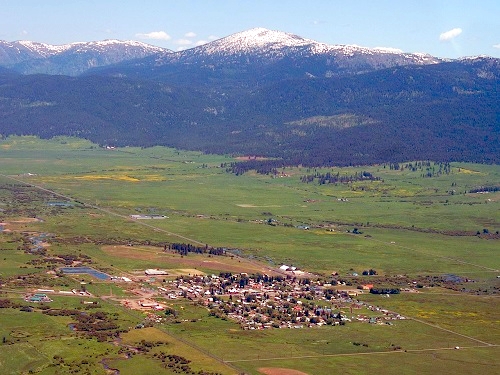 Picture above By Sam Beebe/Ecotrust, CC BY-SA 3.0, Link
Six miles up the road is New Meadows, Idaho (Pictured Above) with hot springs and golfing.  At New Meadows you can continue on Highway 95 to Riggins, Idaho or get on Highway 55 to   McCall, Idaho ( another 16 miles).  Riggins has salmon fishing and rafting the Salmon river.   McCall is a quaint little mountain town.  The McCall Lake is beautiful with boating and skiing and fishing. There are lots of shops to browse and pick up "treasures" and several bars and restaurants to eat at.
Lost RV Park is a seasonal RV park( May-September) for RVers 50 years and older. There are 16 RV sites.  Each site has a deck, small grassy area,  power, water and septic.  

Rates:  $20/night,  $100/week or $200/month
Website:  http://www.lostrvpark.com
Email:  bean.d4@gmail.com
Phone:  208-724-8189 (Donna) or 208-230-4686 (Maria)
About The Author
Owner of Lost RV Park 3438 Highway 95, Council, Idaho 83612.

Get Your Article Published on Everything About RVing
If you have written an article about RVing, Camping or the Great Outdoors and you would like us to publish it on Everything-About-RVing.com, please visit our
Submit An Article Page.
Do you have any suggestions or comments on this topic?  You can add them to this page by using the comments section located near the bottom of this page.
LEARN HOW TO RUN 2 RV A/Cs ON A 30 AMP CONNECTION

Recommended Reading For You
Over 1,500,000 successful roadside rescues—Good Sam RV Emergency Road Service
Good Sam Travel Assist: Emergency coverage for you, your family, and pets. Plans Starting at $59.99 Shop Now!