FTC Disclosure: I get commissions for purchases made through some of the links in this article For more information, visit our Advertising Disclosure Page.
Don't Miss Out! All Good Sam Roadside Assistance Plans Are 50% Off! Learn More!
Motor Home Bonanza, The Quartzsite Sports, Vacation and RV Show
"Why do so many RVers flock to Quartzsite, Arizona, in January each year?"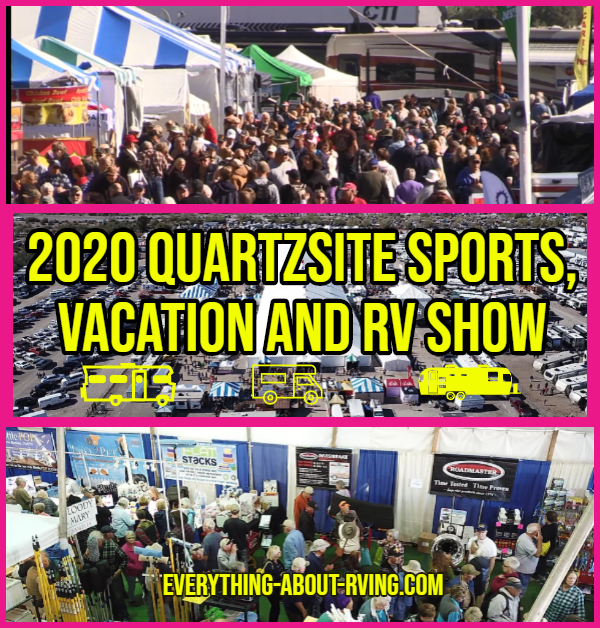 By Andrew Stratton
Editors Note:  The 37th annual show will take place JANUARY 18TH-26TH, 2020
Why do so many RVers flock to Quartzsite, Arizona, in January each year? Because of the Quartzsite Annual Sports, Vacation and RV Show, the biggest gathering of motor home enthusiasts in the world. For about a week, this sleepy little desert burg becomes a thriving metropolis of motorhome aficionados and other folks who want to get away from the cold. It's a huge social event with activities and all sorts of fun. Anybody who's been will tell you that it's paradise for RV lovers!
The inaugural Quartzsite RV Show opened on January 28th, 1984

The event is held on 20 acres of Quartzsite, with a 70,000 square foot indoor area where you can get some shade. Inside, you'll find booths with all kinds of goods for sale and food, as well as live entertainment every day of the week.
Although it gets bigger each year, last year there were about 300 motorhome sites available for show-goers. They are fully equipped with electricity, water and sewerage services. In addition to these sites, there are over 100 locations available outside of the main exhibition area, as well as lots of good RV parks, campsites and motels in the general area.
Still, it's always best to stay right in the middle of this "RV city" if you can. Parking your motor home there is absolutely free, you just need to apply beforehand and reserve your spot.
Aside from all the goods and live entertainment, the show is known for its craft show and car show. The craft show is in a special space inside the main tent with handmade crafts from all over the country, including the Rock And Gem Show, where you can see metals from all over the country. The craft shows include unique, do-it-yourself crafts, so you can learn something while you enjoy the show! Participants are invited to contribute their own crafts to the show, and you can get an application by contacting the promoters.
Held each year on the last few days of the show, the Rock And Roll Classic Car Show is another of Quartzsite's major events. Folks bring their hot vintage cars from all over the country to show off, and there's quite a lot to see. You'll see custom cars, classics, hot rods, muscle cars and other beauties from the past. There is a fee to get in to the car show, but it's well worth it, and group and family rates are available.
Editor's Note:  Take a look at the video below to see the Motor Home Bonanza, The Quartzsite Sports, Vacation and RV Show from the air.
Quartzsite is located in southwestern Arizona right up against the California border, putting it right in the middle of America's best motor home country. It is on Highway 10 west of Phoenix, and just south of Lake Havasu. To reserve a spot at next year's show, download and print the application form found at Quartzsite's RV show website. Be sure to follow all the directions they give and you're sure to have a good time.
Once a year in Quartzsite, AZ, thousands of motor home lovers gather for a week long festival. You can find crafts, vintage cars, food and RV booths to inform and entertain. If you're an RV enthusiast, get in gear and check out Bankston Motor Homes for all your RV needs. http://www.bankstonmotorhomes.com

Do you have any suggestions or comments on this topic?  You can add them to this page by using the comments section located near the bottom of this page.
Get Your Article Published on Everything About RVing
If you have written an article about RVing, Camping or the Great Outdoors and you would like us to publish it on Everything-About-RVing.com, please visit our
Submit An Article Page.
LEARN HOW TO RUN 2 RV A/Cs ON A 30 AMP CONNECTION

Recommended Reading For You
Over 1,500,000 successful roadside rescues—Good Sam RV Emergency Road Service
Good Sam Extended Service Plan is mechanical breakdown insurance for your RV, 5th Wheel, Trailer, and Tow Vehicle! FREE Quote
Return to the RV Lifestyle Articles page from the Motor Home Bonanza, The Quartzsite Sports, Vacation and RV Show page