FTC Disclosure: I get commissions for purchases made through some of the links in this article for more information, visit our Advertising Disclosure Page.
Potrero Regional Park - Yours to Discover
Potrero Regional Park, 45 miles east of San Diego, is in a broad valley dotted by coastal live oaks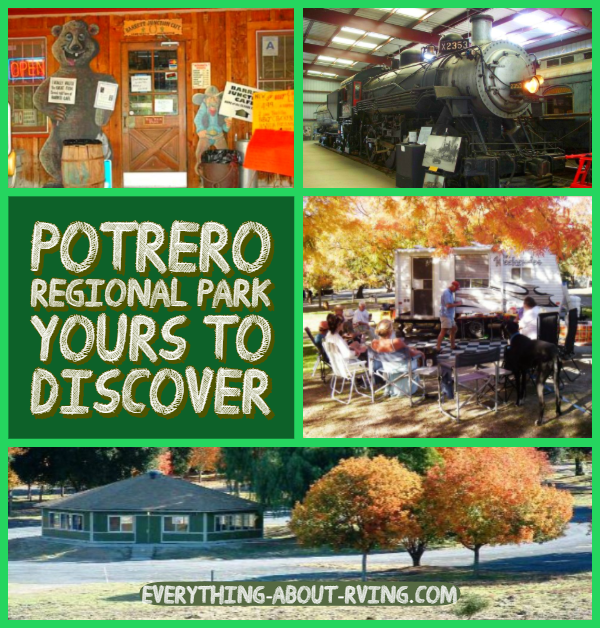 By: Dan & Lisa Goy 

(Baja Amigos RV Caravan Tours)
We were introduced to the Potrero County Park a few years ago when traveling north to the US border after a few weeks on Baja. We made the decision to avoid Tijuana and cross at Tecate, we pulled in at dusk and as "first impressions" go, we were impressed for sure!  Now we start all our Baja RV Caravan Tours from Potrero, which includes our Rendezvous Reception.  
We know in the tour business it is important to start strong, meeting everyone at the Potrero ensures that happens, everyone is pleasantly surprised when they arrive that such a charming and picturesque campground.  We are not alone in our opinion as other Baja RV Caravan operators and most RVers heading to Baja all stage from Potrero and often return prior to the journey northward.
Share This Page
Follow Us
The County of San Diego describes the campground as Potrero Regional Park, 45 miles east of San Diego, is in a broad valley dotted by coastal live oaks.  Its grassy meadow and rocky hillsides provide quiet solitude for hikers and campers, and picnickers will enjoy the shade of hundred-year-old oak trees.
The park is well suited for year round recreation.  The average summer high is 90°F and the average winter low is 34°F.   At an elevation of 2300 feet, the valley can receive occasional light snowfall in the winter.  We have been there in all weather, sunny bright warm afternoons, pouring rain, ice on the puddles at first light and yes, even a bit of snow. 

The park is tucked into a spacious, live-oak-covered corner of Potrero Valley, near the village of Potrero — east of the Tecate turnoff  (only 10 minutes away) and west of Campo (a 20 minute drive).  The twisting but scenic drive is a real favorite for motorcyclists from San Diego, via Highway 94, measures 44 miles (from downtown) and takes about an hour to the park.

Potrero offers 39 RV sites with 15, 30 and 50 amp connections and potable water that tastes great, every one heading to Baja fills up prior to departure.  The showers are hot and the bathrooms clean, a common pull through dump station is located at the entrance/exit to campground.  Lots to see and do within the park itself including hiking, walking and birding.
Potrero is Spanish for "pasturing place" and the Kumeyaay Indians inhabited the entire region, which includes northern Baja, Mexico, until the mid 1850s.  Past Kumeyway life can still be found throughout the park, evident on large rocks that are pitted and smoothed depressions where abundant acorns were likely ground into a meal. 

The Potrero Public Library is only a 5 minute drive away and is your closet access to internet, the staff are always friendly and helpful and when closed you can connect right from the parking lot.  We often meet other campers and community members sitting in their vehicle or on the benches in front of the library on the net, they even have an outside plug in to keep your battery charged, how thoughtful!

Potrero General Store
For supplies you need to go no further than the Potrero General Store owned and operated by our friends Mike and Willemina Arnold.  You can find anything and everything at their store, you name it, they have it, all at a reasonable price.  In addition they have propane, purified water and a new bar & grill right next door (actually part of the same building).  The local Post Office is also just down the street so if you need to mail something or buy stamps, it is very handy indeed.  The bonus of spending anytime in Potrero means you have an opportunity to enjoy a number of diverse local attractions, as they say "something for everyone".  The list is truly remarkable;
Sign and Drive Coverage with Good Sam Roadside Assistance! Plans Starting at $49.95! Shop Now!
Gaskill Brothers' Stone Store and Museum
The well-built stone building was the result of a raid on the original frame store of the Gaskill brothers by border bandits in 1875.  A furious gun battle that ensued prompted the early settlers of East County to build a more secure, fortress-like stone store.  Constructed post 1875 raid still stands to remind us the "wild west" was real not just TV fiction.  When the host of the museum tells the story you can easily imagine the chaos of the event and the bravery of those resisting the raid from real Banditos.  The new and improved "store" also functioned as a bank, post office, and social center for the community.
The museum is located on Hwy 94 and includes exhibits on the history of the Mountain Empire Region of San Diego County's mountainous backcountry.  Utilizing photos, displays, and a partial store replication, the downstairs exhibit hall interprets the history of the store itself, and the rural life of the area – from prehistoric times through the early part of this century.  The upstairs hall presents the unique history of the military in the region, including the significant role of Camp Lockett, located in Campo, CA, the last horse cavalry post in the U.S. Army in the opening years of World War II and last home of the Buffalo Soliders.  Buffalo Soldiers originally were members of the U.S. 10th Cavalry Regiment of the United States Army, formed on September 21, 1866 at Fort Leavenworth, Kansas.  The nickname was given to the "Negro Cavalry" by the Native American tribes they fought; the term eventually became synonymous with all of the African-American regiments formed in the mid 1860s.  The movie Buffalo Soldiers released in 1997 starring Danny Glover, was a fact based story about the all-black US Cavalry Troop which protected the Western territories in post Civil War times and focuses on the troops attempts to capture an Apache warrior named Vittorio who slaughtered settlers in New Mexico in the late 1870s.

Barrett Junction Cafe & Mercantile
The original Barrett General Store (now closed), built is 1917, stands silently next to the current building.  At the time it served locals and travelers along highway 94 which in earlier days was a stage coach route, especially with those coming from, and going to, the border towns of Tecate, USA, and Tecate, Mexico.  The larger Barrett Junction Cafe first opened as a restaurant in 1946, now consists of a group of buildings clustered together, under ancient pepper trees, on the north side of Hwy 94.  In addition to the cafe, the complex includes, a small gift shop and antique store, a small dining room, which connects to a much larger saloon and dining hall, within a huge Quonset hut.  You can find countless unusual and antiques lining the walls and counters, surprisingly the antique ice box and phone behind the counter are still in perfect working order.  They have a great menu, Lisa and I have eaten here more then once, believe us you will not be disappointed, this establishment is worth the visit.

Tell Us About Your Favorite RVing Destination
Pacific Southwest Railway Museum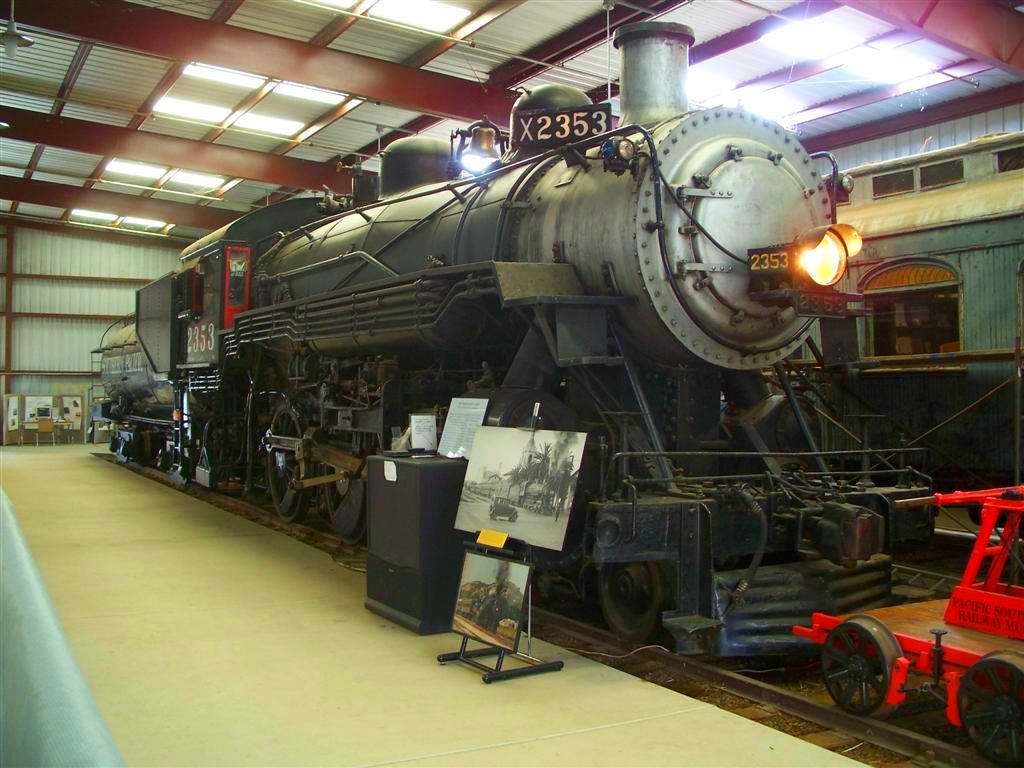 The museum is located at the corner of Hwy 94and Forrest Gate Road near Campo, CA, just across the highway from Gaskill Brothers' Stone Store and Museum.  This railroad museum is dedicated to the preservation and interpretation of railroads as they existed in the Pacific Southwest.  The museum operates a heritage railroad that offers train rides and has 6 Steam Locomotives, 12 diesel locomotives and 59 other pieces of rolling stock.  For a reasonable fee
visitors can stroll through the collection of 80+ pieces of equipment where you can experience steam locomotives, passenger cars, freight cars and cabooses, that include interior visits available for some of the trains.  Unfortunately rides to Tecate, Mexico have been suspended since January 2010 until further notice due to a tunnel fire.  We spent a fair bit of time at this museum and found it very worthwhile and interesting.  Who would have ever believed that not that long ago you could catch a train from San Diego to Yuma crossing back and forth from the US and Mexico several times on route.

Motor Transport Museum 
Opened to public in 1986, the Museum provides a place for preservation, restoration and display of antique trucks and related equipment, photos, literature, memorabilia, artifacts and other pertinent information relating to trucks and the trucking industry.  The museum is housed in the historic Campo Feldspar Mill which is located within the community of Campo, CA and is also a landmark, representing some of the Industry that was once located in the historic community of Campo.  The museum has been located in the mill since 1987 and has become a home for more than 200 motor transport vehicles.  The Motor Transport Museum has a complete auto and fabrication shop and display area where the vehicles are restored and showcased.  The Mill itself is now also in the process of restoration, with plans for the addition of new showroom.  We can attest to the fact that with the recent addition of the new Research building, this historic property shelters a unique collection of archival reference books, manuals and literature.  Don't miss it.

Helpful Links
Viejas Casino  - http://viejas.com/
Golden Acorn Casino - http://www.goldenacorncasino.com/
Tecate - http://www.runoftheworld.com/mexico/baja_california/tecate/index.htm
Barrett Junction Cafe - www.barrettjunctioncafe.com.
Motor Transport Museum - http://www.motortransportmuseum.org/
About The Author
Dan & Lisa Goy (Baja Amigo Tours) www.BajaAmigos.net
Get Your Article Published on Everything About RVing
If you have written an article about RVing, Camping or the Great Outdoors and you would like us to publish it on Everything-About-RVing.com, please visit our
Submit An Article Page.
Do you have any suggestions or comments on this topic? You can add them to this page by using the comments section located near the bottom of this page.

Get Your Article Published on Everything About RVing
If you have written an article about RVing, Camping or the Great Outdoors and you would like us to publish it on Everything-About-RVing.com, please visit our
Submit An Article Page.
Return to the RV Lifestyles Articles Page from the Potrero Regional Park - Yours to Discover Page.