FTC Disclosure: I get commissions for purchases made through some of the links in this article for more information, visit our Advertising Disclosure Page.
First Time RVer 101:
A Complete Guide to Purchasing a Used RV
Purchasing a used RV can often be more affordable than buying a new one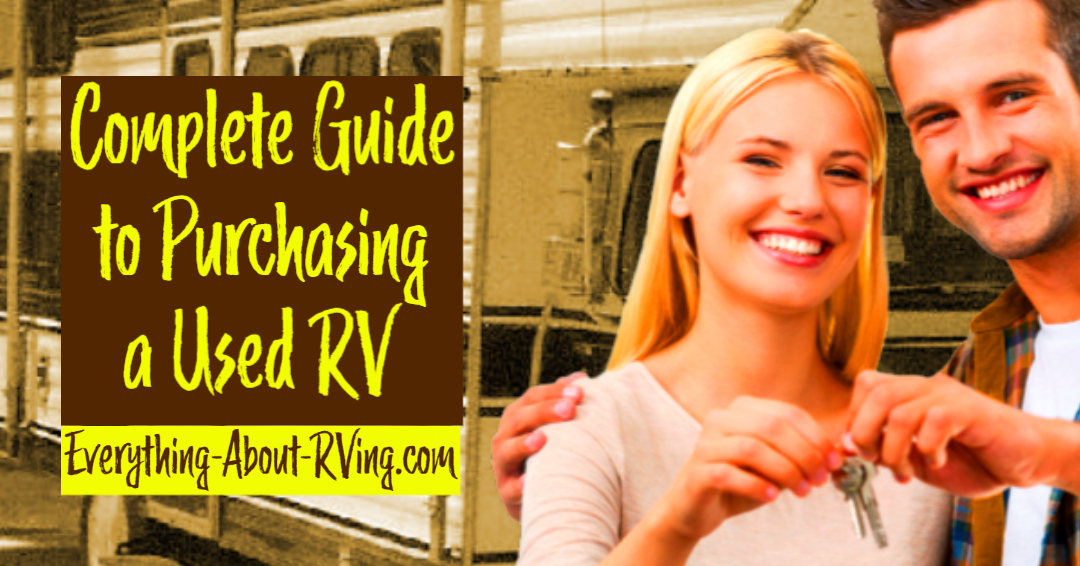 By Vincent Stokes
Anyone who is planning on purchasing a used RV is likely looking to time spent traveling in the vehicle. Purchasing a used RV can often be more affordable and will avoid the vehicle from depreciating too much in future years compared to new vehicles. When you're looking to make the purchase, there are a few important steps to take for a smooth process.
Make a List of Must-haves
It's important to create a list of features that are must-haves with the RV that you purchase. You may want an RV that has satellite Internet or includes televisions to keep the family entertained while on the road.
According to rv-roadtrips.thefuntimesguide.com, you should check to see if the interior is clean and inspect the aesthetics of the vehicle to determine its overall condition. Inspect the fabric on the seating, which is soft and pliable or if any stains are present. You also want to look for rust that has developed or discoloration on both the inside and outside of the vehicle. 
Consider the amount of money that each model will cost to maintain, which includes its fuel efficiency and any repairs or upgrades that it may need. It's important to look for an RV that has at least 10,000 miles on it. If the vehicle is fairly new, it may be an indicator that the RV is prone to different problems or is challenging to drive. Most RVs start at $50,000 and can cost up to $80,000 for certain features that are included.

Research the History of the RV
You'll want to do your research on the history of the RV before making an offer to avoid purchasing a lemon. Purchase a vehicle history report for $25 on rvchecks.com by using the RV's VIN number. This will allow you to learn if the vehicle has been involved in an accident or if it's ever been stolen.
Take your time asking the current owner about the title, warranties, and repair or maintenance records to ensure that it's been maintained well. You may also want to know how many owners its had. 

Test Drive the Vehicle
Test driving the RV is one of the most important steps to take when purchasing a used vehicle to ensure that it runs smoothly and is comfortable to drive. You also want to have the seller drive the RV to ensure that you can determine how comfortable it is to ride in the passenger seat. 

Listen for any unusual noises that you may hear and test drive it on different types of streets or roadways to determine if it has a smooth ride. You even want to park the vehicle in a tight spot, which can influence how comfortable you feel behind the wheel.
Look for Problems
It can be easy to fall in love with an RV that is everything that you dreamed, but there may be a number of problems present that are often easy to overlook. Check for leaks that might be present on the ceiling by hosing off the top of the RV. According to AARP.org, common repairs that parked RVs may need include rebuilding the carburetor, replacing fuel pumps, adding new belts, or installing a new battery. Parked motorhomes often decrease in value due to mechanical equipment that is not used. This can affect how well it drives and can lead to a number of problems in future years.
Calculate the Cost of Insurance
Before purchasing an RV, you'll need to perform an auto insurance quote comparison to determine if you can afford the extra cost of owning the vehicle. You'll need to submit the age, condition, and model of the RV to obtain an accurate quote that will allow you to determine if it fits in your budget. The liability that you choose will also influence your rate and if you need to look for a cheaper RV that is more in your price range.
Editor's Note: For even more information on how to properly inspect a used RV visit our How to Inspect a Used RV Page.
Do you have any suggestions or comments on this topic? You can add them to this page by using the comments section located below.