FTC Disclosure: I get commissions for purchases made through some of the links in this article For more information, visit our Advertising Disclosure Page.
Questions To Ask Yourself About What Type Of RV Is Right For You
"Here are some important questions to ask yourself before deciding which type of RV you should consider"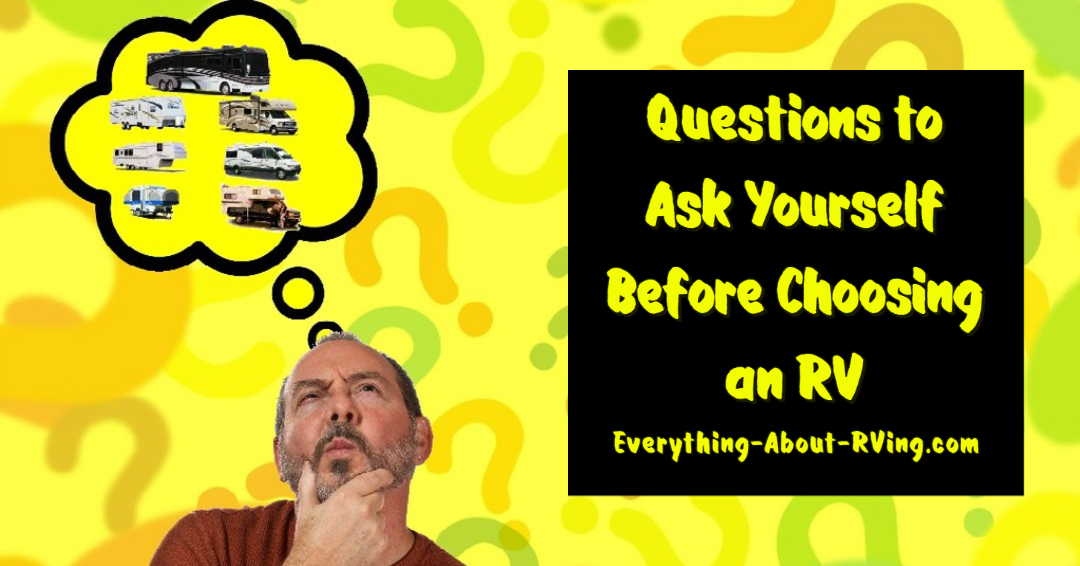 By Alan Wiener

Editor Everything About RVing
Here are some important questions to ask yourself before deciding which type of RV you should consider.  By the way it is OK to actually talk to yourself  in this section, if it helps.
How Much Money Do You Have To Spend?
This is the one of the first questions to ask because, depending which types of RVs you are looking at they can be very expensive. Some Class A Motorhomes can cost more to buy than what you paid for the house you now live in.
The Bus Conversions in the Class A category can cost well over two million dollars each.  I bet you're paying attention now!  
So before going on this buying spree, you need to take into consideration how much you can afford to pay, whether you are planning to finance the RV or pay cash for it.
Spending your kid's college fund or cashing out your pension plan to purchase an RV may not really be a good choice.
Good Sam Travel Assist: Emergency coverage for you, your family, and pets. Plans Starting at $59.99 Shop Now!
How Often Are You Planning To Use the RV? 

This is the second in the questions to ask yourself.  If you are currently eking out a meager living in this dog eat dog world and your family will only be able to use the RV on weekends and during the piddly 3 or 4 weeks vacation that your employer gives you. You may not want to purchase a new RV and have it sit in storage for ten months out of the year.  
A better fit might be to look at some options like buying a used RV in your chosen category until you are free of the bondage's of work (retired).  
On the other hand, if you are now a Free-Spirit (retired) and the kids have moved out of the house (finally!) or you are planning to become a Full-Time RVer and travel the country to go where there is to go, to see what there is to see and to eat what there is to eat. This is the time to go for the gusto, the RV world is now your oyster to pluck.
Last but not least if you are planning to spend a lot of time RVing, now is the time to buy a small dog to go everywhere with you.  You are not an official RVer unless you have a small dog.
Save 50% Off of Campsites with Passport America

What Kind Of Amenities Are You Looking For In An RV?
This is one of the  important questions to ask, as it determines what kind of lifestyle you are used to.  You can answer this question by thinking about what you look for when staying at a hotel or motel.
If you are the type of person that looks for a hotel that has Chocolate Mints on the pillows, Origami animals made out of towels on your bed and a television in the Jacuzzi equipped bathroom, you should start looking at the Class A or 5th Wheel sections of this site. 
If you are a person that is happy with a motel room that has carpet that crunches under your feet when you walk on it and a box on the nightstand that you put a quarter in to make the bed vibrate, we suggest you look at any of the RV classes, as all of them will have better amenities than the hotels and motels you choose to stay in.  
The bottom line is RV amenities vary by RV class.  If you want all the luxuries, they are available or if you like to "rough it" a little you can find classes of RVs that let you do that.

Now that you have completed the questions to ask yourself, you can see your decision on which RV type fits you, depends on your personal lifestyle.  Browse through the different RV type pages. Take your time and imagine yourself in each type of RV.  RVing is about relaxation and everyone needs to take the time to relax and smell the coffee. Eventually, you will find a type of RV that works for you.  You deserve to become an RVer.
If you are interested in finding out how difficult choosing an RV might be for you, please feel  free to take the exclusive Everything-About-RVing.com Buffet Personality Profile Evaluation.  This is an entertaining way to determine whether you are up to making any decisions at all.
Get Your Article Published on Everything About RVing
If you have written an article about RVing, Camping or the Great Outdoors and you would like us to publish it on Everything-About-RVing.com, please visit our
Submit An Article Page.
Do you have any suggestions or comments on this topic?  You can add them to this page by using the comments section located near the bottom of this page.
LEARN HOW TO RUN 2 RV A/Cs ON A 30 AMP CONNECTION

Recommended Reading For You
Over 1,500,000 successful roadside rescues—Good Sam RV Emergency Road Service
Good Sam Travel Assist: Emergency coverage for you, your family, and pets. Plans Starting at $59.99 Shop Now!
Return to Types of RVs page from questions to ask yourself before deciding which type of RV you should consider page