FTC Disclosure: I get commissions for purchases made through some of the links in this article for more information, visit our Advertising Disclosure Page.
Rv Adventure Destinations
7 RV Adventure Destinations in the USA
Traveling with an RV is an adventure. It allows you to get a closer look at the destinations you visit and offers you an unrivaled experience, one you'll fondly remember after your trip. It also costs less since you don't have to shell out big bucks on food and accommodation.
With benefits such as these, it's no wonder that RV owners are continuously looking for great destinations they can visit with their recreational vehicles.
To give you a head start, we listed seven RV adventure destinations in the USA that are best experienced with an RV.
Let's get started!
Share This Page
Save 10% on campground fees when you become a Good Sam member Today!
Here are 7 great RV adventure destinations in the USA
Yosemite National Park
Yosemite is a gem. In this park, you'll wonder at nature's raw beauty. Yosemite has much to offer adventurers, from scaling the mountains, admiring the flora and fauna found in the forests, and reveling in its many waterfalls.
Plan a visit during spring so you can appreciate its five majestic waterfalls, each with heights over 1,000 feet, and witness the melting snowcaps atop the beautiful mountains.
Hike along Mist Trail to experience the spectacular views it has to offer. You can also follow the breathtaking granite trail to Sentinel Dome and get a bird's eye view of Yosemite Valley. Don't miss the beauty of Nevada Falls along the Merced River. 
The Florida Keys
The string of islands that make up the Florida Keys are all connected. You can easily access them via US Highway 1, which runs from the mainland to Key West. It's a leisurely trip, but the destination is definitely worth the wait.
To experience it in full, visit every island and take in its full beauty. Birdwatch, kayak, explore state parks and museums, go paddle boarding or snorkeling, swim with dolphins, or take a walk through the mangrove boardwalk and witness the vibrant flora and fauna. Just park your RV at one of the seaside campgrounds and go exploring.  
Save 50% Off Campsites with Passport America

The Grand Canyon
The Grand Canyon is a sight for sore eyes. The expansive pastel shades and shadows coupled with the pine-scented air make the Grand Canyon an American icon. Photos don't do justice to the century-old gaping hole in the ground that spans a massive 277 miles long and no less than 18 miles wide. 
Take in the scenic views offered by the Bright Angel Trail, witness the dizzying depths first-hand, and watch the mighty Colorado river running through it. The Grand Canyon provides many opportunities for exploration throughout the year, thanks to its warmer temperatures. 
The only decision you need to make is whether to visit the North or South Rim. 
Black Hills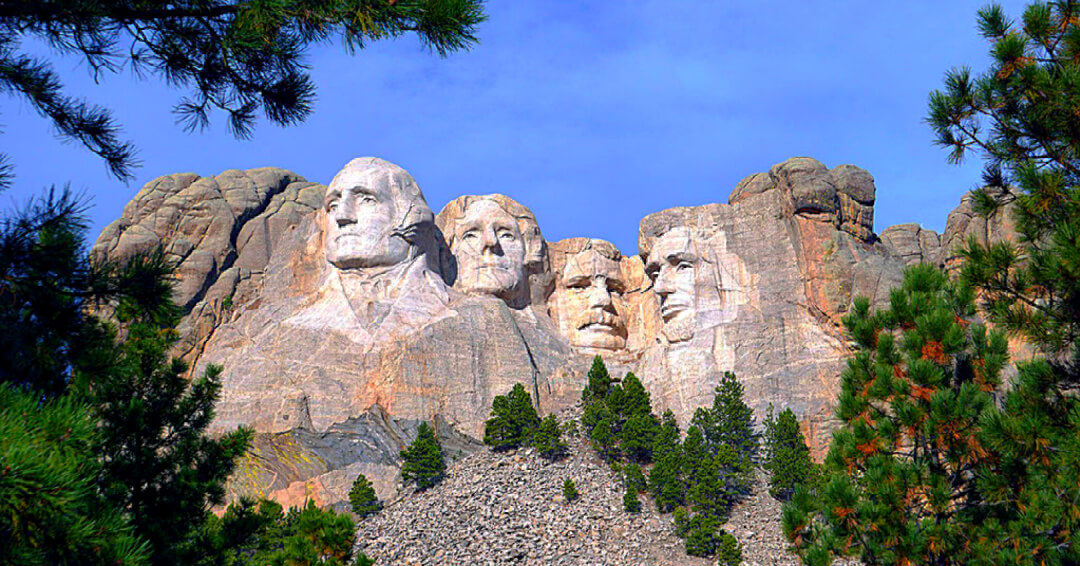 Black Hills, South Dakota, is home to some of the major landmarks in the USA. The Crazy Horse Monument, Custer State Park, Devil's Tower, Jewel Cave National Monument, Mount Rushmore, and Wind Cave National Park are just some of the places you can visit for spectacular views.
Here you'll see the pronounced peak, tall hills, and rolling grasslands that stretch for hundreds of miles. There are also plenty of mountain biking and hiking trails to choose from, so make sure you have the right equipment. Get your feet wet and catch some rainbow trout at the legendary Sunday Gulch Fishing Pond if you love fishing.
Make sure to squeeze in some time to visit the quaint western towns along the way to get the most out of your travel experience.
Paso Robles

Paso Robles is a laid-back adventure that's perfect for wine enthusiasts. Nestled in the rolling hills of the Santa Lucia Mountains, it's home to no less than 200 wineries, an impressive number of beer gardens, and places to wine and dine where you can enjoy farm-to-table produce.
Don't let its laid-back vibe keep you from visiting this beautiful place. Paso Robles offers incredible outdoor activities like hiking, ziplining, horseback riding, and amenities like heated pools. It's the perfect place for relaxation and adventure.
Muir Woods National Monument
Less than a 30-minute drive north of the Golden Gate Bridge, Muir Woods National Monument offers a sense of natural wonder, peace, and serenity. Here you'll find redwoods that are hundreds of years old. The oldest one is estimated to have been around for over 1,200 years. 
With 6 miles of hiking trails, visitors are free to explore the national monument or explore the redwood forest. If you're looking for more of a challenge, a number of hiking trails intersect with the trails of Mount Tamalpais State Park. These trails are unpaved, long, narrow, and steeper.
Death Valley 
Death Valley is one of the best road trips in the United States. One of the hottest and lowest places in the country, it is renowned for its sand dunes, abundant wildlife, and legendary slot canyons. 
The Zabrieski point is the perfect place to watch colorful birds in flight, while the Mesquite Flat Sand Dunes is a great place for sandboarding. Together with the Artists Palette and its multicolored rock, these famous destinations provide wonderful opportunities for taking beautiful photographs.
Conclusion
Traveling with your RV is one of the best and most cost-effective ways to explore the world around you. Without the hassle of check-in and check-out schedules and worrying about making your way back to the hotel, it affords you comfort, ease, and unparalleled freedom to move about as you please.