FTC Disclosure: I get commissions for purchases made through some of the links in this article for more information, visit our Advertising Disclosure Page.
10 Easy RV Storage Ideas to Improve Any Small Space
By Charlie Svensson 
These RV storage ideas will help you efficiently use all the space available in your RV
RV travel is unbeatable from flexibility, experiencing unique ways of enjoying nature, and getting closer to your loved ones. However, one of the issues that you have to deal with to leverage the benefits of RVing is storage.
Share This Page
Save 10% on campground fees when you become a Good Sam member Today!
The camping chairs and pillows, sleeping bags, tents, among other items, may be such a bother due to the limited storage space. Being creative in the way you store such items may make RV travels more fun. 

Store cooking utensils in a hanging rack under the cabinets
It is great to create more room in existing drawers for additional storage because you will have the utensils better organized. It will also be easier to find the utensils at any time, so this is also a time-saving hack. 
Such storage will let you have room for other items in the drawers. 
When you get to your cool RV destination, there will be no need to waste time looking for utensils. You could also use an adjustable tray to store the cutlery on the racks because it will be easy to access them. 
For fruits and vegetables, Use cabinets to hang baskets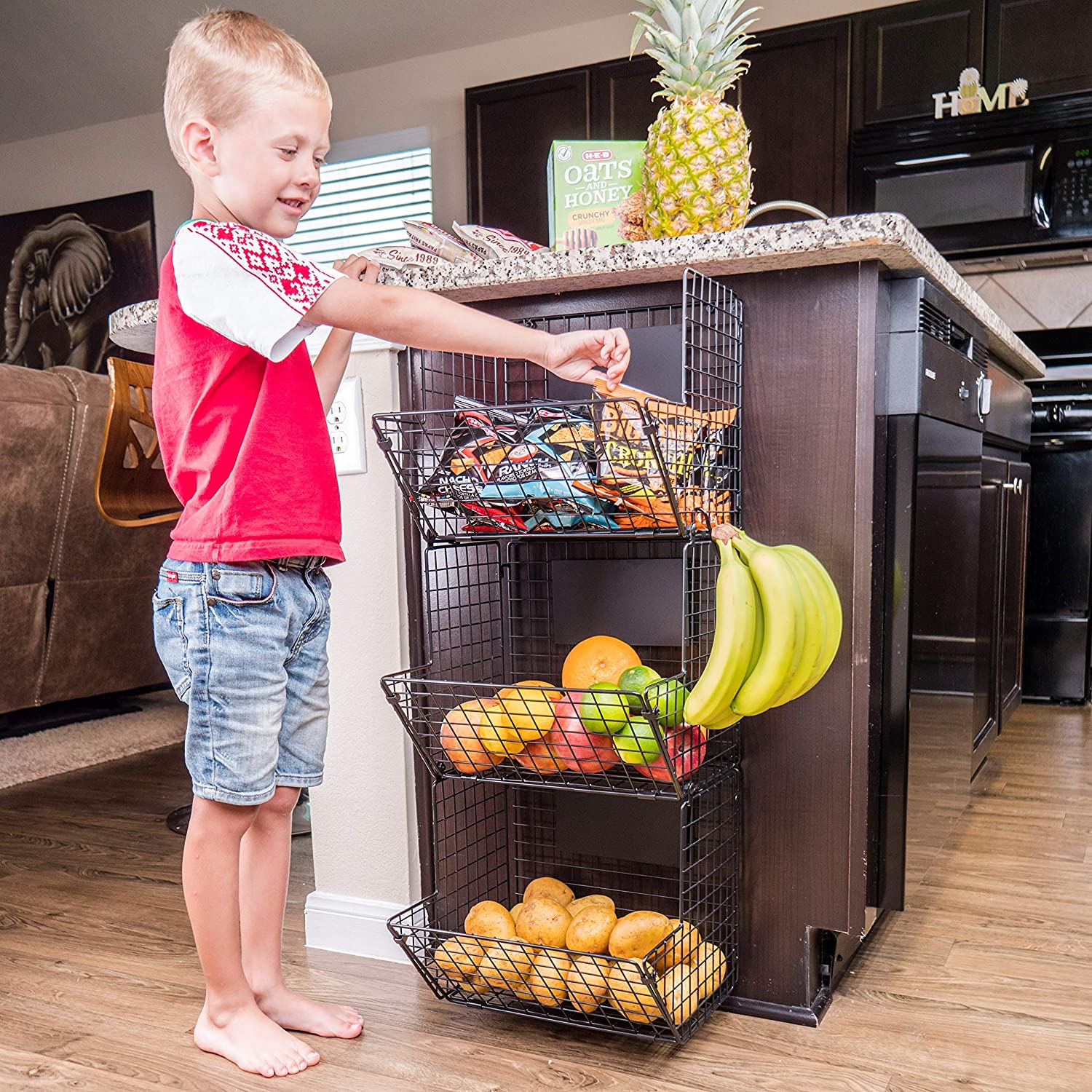 One of the best ways to optimally use the wall space of your camper is by hanging baskets containing fruits and vegetables under the cabinets. If your RV does not come with a pantry, you don't have to worry about fruits and vegetables to use during your travel.
Avoid having the foodstuff rolling all over the place because this could inconvenience the travelers, especially when driving downhill. It may also require cleanup after getting to the campsite. Find a rod and some hanging baskets and enjoy having a good and safe place to store fruits and vegetables.
Save 10% on campground fees when you become a Good Sam member Today!
Use canvas shelves to hang clothes
Canvas shelves create more room for storing clothes and are suitable for a large number of travelers. The closet space is limited in most cases, and some RVs may not have some pull-out drawers. 
If the trip will take a couple of days, try to improvise the clothes storage facility. Collapsible shelves are cost-effective and can fit perfectly into your closets by the bedside. They can accommodate a lot of clothes, so they can give you additional space to store other essentials during the trip. The shelves will make your clothes more organized, and it will be easier to find clothes. 
Put the first aid essentials on a tackle box
A first aid kit is one of the most important things to consider during RV travels. Organize and store the first aid essentials in a tackle box and put it in a strategic place. A tackle box is a great way to keep the first aid items in the same place and more organized. 
Besides saving storage space, a tackle box can enable you to trace the first aid items easily. Use a high-quality but compact tackle box while ensuring that everything is labeled for quick access. 
Carry your medicine in pillboxes while traveling 
It is very important to bring some bottles of medication that you may use when traveling. The medication could help you to cope with cold, stomachache, headache, heartburn, allergies, and so on.
Carrying some medication in pillboxes is a better idea instead of throwing the medicines into a large bag. You don't need to carry full bottles of medicines for a few days trip. Using pillboxes will make it easier to keep all your medicines in small containers that are visible and easily accessible. Additionally, the containers save a lot of space in the medicine cabinet and are more convenient to use. 
Use a shoe organizer appropriately
A shoe organizer during RV travels is good because it will prevent people from tripping over the shoes. Most RVs have very little space around the bed, so you need to be creative about shoe storage.
Carrying more than one pair of shoes while on a trip is always a good idea because activities can vary. A shoe organizer can help you to organize shoes neatly while clearing the path around the camper vehicle. Cut the organizer into small sections and hang it beside the bed of your camper using tapes, screws, staples, or Velcro. 
Put toiletries on containers fixed on a rod
Small RVs have limited storage space for bathroom essentials, so being creative will go a long way to ensure optimal utilization of the available space. RV bathrooms are not like home bathrooms, so do-it-yourself hacks will always work better.
Find some containers locally and a few cheap towel rods for hanging the toiletries. The beauty of this hack is that it is easier to separate the containers and ensure that everyone has their own. Before buying the rods, consider the number of towels that you will need to carry. The number of towels depends on whether you are going for a week excursion or just a single night. 
Use mason jars to store extra food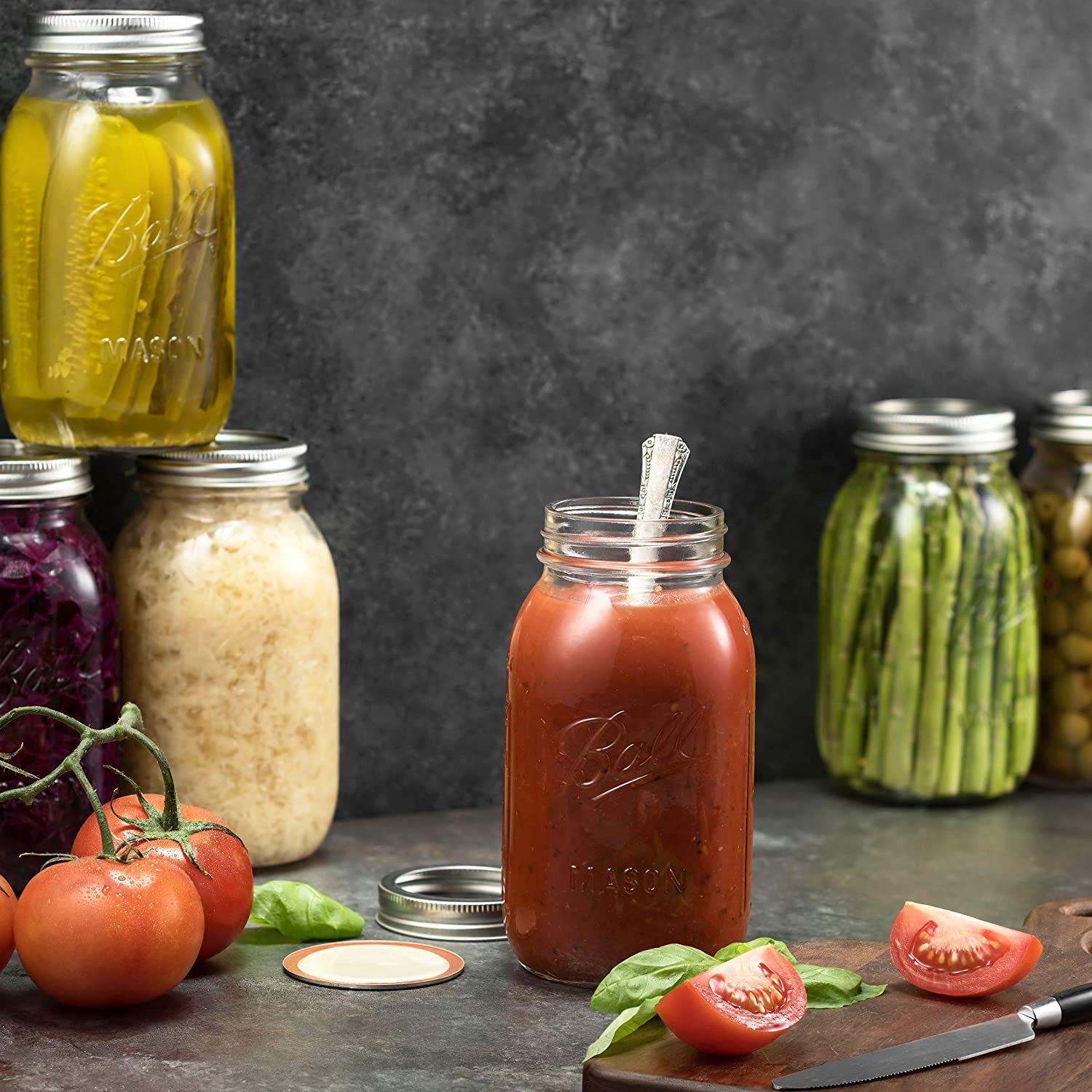 Mason jars are trendy and also ideal food storage during RV travels. Their tight lids make them perfect for keeping food items organized. Canned foods have a longer shelf life and are easier to store, but they are bulky and heavy. Limit the number of canned foods and consider basics such as potatoes, baked beans, fruits, and vegetables.
You can also use the mason jars to carry crackers, peanut butter, cheese, pretzels, and popcorn. The jars are compact, so that they can help to save more space within the RV.
Invest in a pan organizer
Pans during RV travels are essential because you may want to prepare pancakes, eggs, grilled sandwiches, or bacon. Think about how the pans will fit well in the RV and avoid clutter that could waste storage space. 
A pan organizer is a great essential that can eliminate piling up pans in the RV - it saves a lot of cabinet space. Keep the pan organizer at a strategic point, preferably under the sink, to avoid cluttering the camper's path. You may also stick the pans with shelf liners to ensure they don't rattle or scratch when driving. 
Hang bath products on curtain rings
Most RVs come with small showers, so you have to be creative when storing your bath products. The curtain rings should have clips to keep the shower products intact and ensure that they are accessible. 
The beauty of this space-saving hack is that everyone can have their own hanging space for their products. Some products take up a lot of space, so the best way to save the room is by hanging them on a tight hook to dry. 
Conclusion
With the above storage ideas and considering the RV's size, you can save space and enjoy every part of your RV journey. Storing all the essentials in an RV may be difficult, but with little planning, it is possible to create more space in the vehicle than you thought. The idea is to utilize the available space optimally while minimizing clutter and creating a comfortable environment for everyone. 

About The Author
Charlie Svensson is a fast, engaging freelance essay writer working for Paperwritingpro, which is considered the best essay writing service. He is highly skilled and covers several topics, including mentoring and coaching, sales and marketing, education, and technology. He's versatile and finds working on various topics quite easy.