FTC Disclosure: I get commissions for purchases made through some of the links in this article for more information, visit our Advertising Disclosure Page.
See the Wild West in an RV
10 Must-haves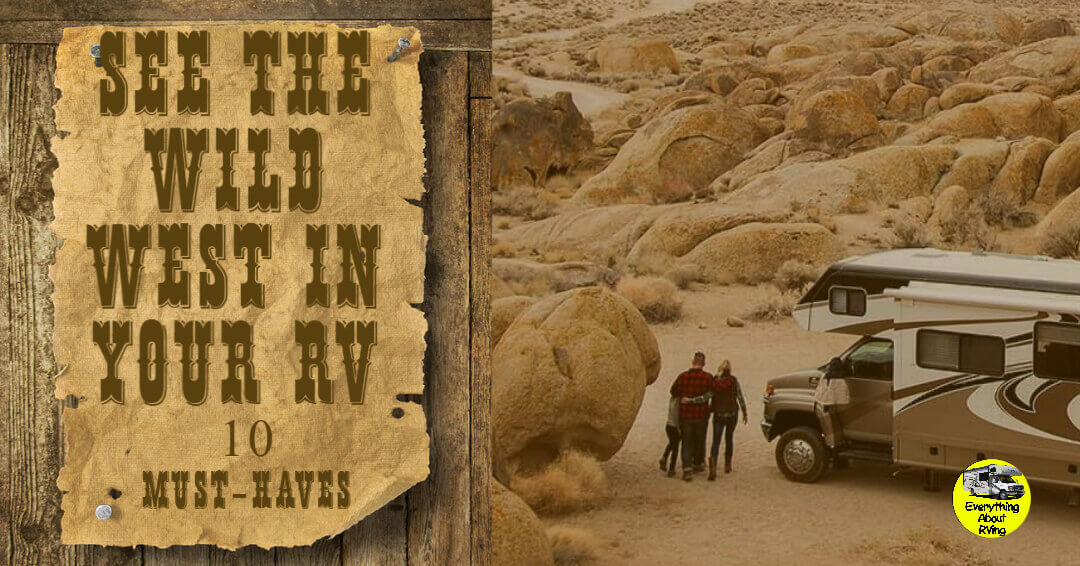 You will visit dozens of national parks and wilderness areas. Here is what you need to take along when you see the Wild West in your RV
By Kevin Gardner
Do you want to truly experience the American West? The best way to do that is by taking a road trip in a recreational vehicle. Traveling by RV has several advantages over other modes of travel, including flexibility and affordability. When you are ready to hit the road and go west, here are 10 things to take along.
Road Atlas
Before taking off, brush up on your map-reading skills. Some remote areas have no reliable cell phone signal. On those stretches, your GPS may not work as well as usual. These days, gas stations may not carry paper maps, either. There may be stretches where the only sure way to stay on track is an up-to-date road atlas.
Sign and Drive Coverage with Good Sam Roadside Assistance! Plans Starting at $49.95! Shop Now!
Roadside Emergency Kit
Remote stretches may mean you do not see another traveler for miles, so you need to be as self-sufficient as possible. Carry an emergency kit that includes a spare tire, fire extinguisher, set of jumper cables and first aid kit. A full gas can, safely stored and secured, is another must. In case you are stuck for hours, always carry extra water and snacks.
Camera
One thing you will never run out of is picturesque scenery, and for some pictures your smartphone may not be enough. It takes a powerful optical zoom lens to capture the mountain climbers scaling El Capitan. You will undoubtedly want to print some of the images you capture along the Oregon coast, and that will require more megapixels than any camera phone can offer.
Insect Repellent
Depending on the season, your location and the time of day, mosquitoes can ruin an outing. Do not let that happen to you. Stock the all-natural bug repellant made by Young Living Essential oils. Because it is all-natural, you can use it safely on family members of all ages; as a bonus, you won't have to worry about negative effects on the environment.
Sun Protection
Parts of the West are known for having 300-plus sunny days a year, so you will need sun protection. The sun's rays can be especially harsh in the high desert, where you may be miles from shade. Wear long sleeves and pants made from lightweight, breathable fabric that keeps you cool while protecting your skin. Protect your face with a wide-brimmed hat and slather on sunblock even when skies are overcast. 
America the Beautiful Pass
Save 50% Off Campsites with Passport America

For a nominal fee, this one pass allows you free entry to more than 2,000 federally managed locations. Many of America's most iconic parks and forests — Yosemite, Yellowstone and Carlsbad Caverns, to name a few — are included, and passes are good for a year.
Comfortable shoes
Whether you relish the solitude of trekking through the rain forest, the challenge of ascending rocky summits or the excitement of exploring bustling cities, your road trip will involve walking. Traveling in an RV means you can bring a sizable selection of footwear. To guard against blisters and ensure you never miss a day of fun, include at least two pairs of walking shoes, one pair of hiking boots and plenty of cushiony cotton socks.
Swim Gear
Your trip will take you to dozens of rivers, lakes and resorts with swimming pools, so pack accordingly. Ultimately, you will end up at the Pacific Ocean, known for its pounding surf and miles of sandy beaches. Be prepared to take surfing lessons or just indulge in a quick dip, perfect in the middle of a hot day.

Food and Drinks
The RV has a full kitchen, so you might as well take advantage of it. Making your own breakfast can help you hit the road as early as you want, and you never know when you may find a scenic spot for a roadside lunch. There will also be times when your budget needs a break. Making your own meals for a few days can free up the money for an extra day at a theme park.

Sense of Wonder
You will visit dozens of national parks and wilderness areas. You will see the world's tallest trees and its biggest ocean. You will take in one of the Seven Natural Wonders of the World. Enjoy it all.