FTC Disclosure: I get commissions for purchases made through some of the links in this article For more information, visit our Advertising Disclosure Page.
What To Do If Your RV has a Tire Blow Out
A tire blowout is the worst fear of many RVers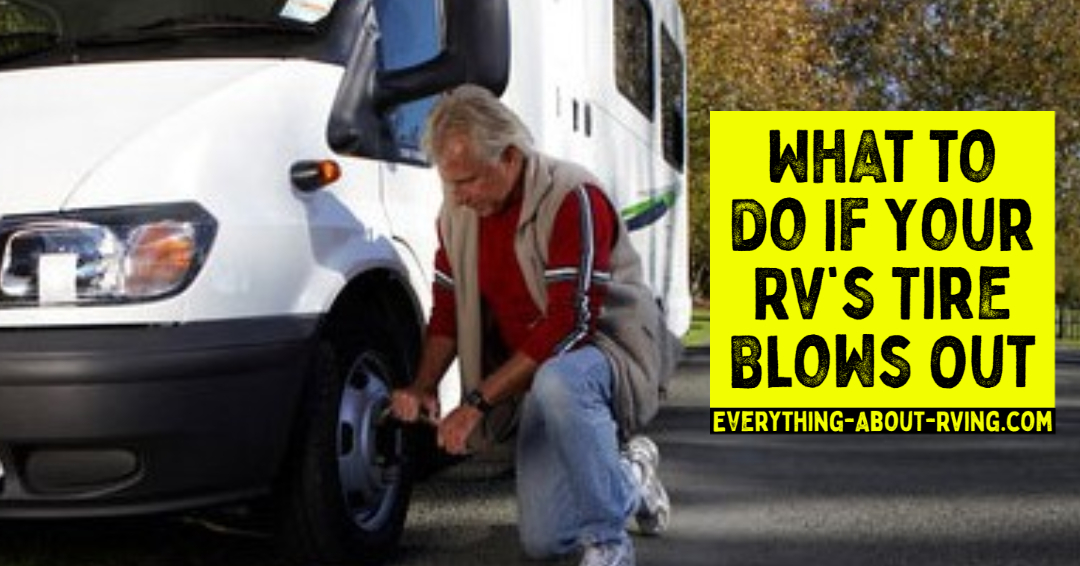 Presented by FMCA
A tire blowout is the worst fear of many RVers. What would you do if you found yourself in this situation? Read FMCA's tips to stay safe on the road.
Understanding Tire Failure
According to Goodyear engineers, obstructions (nails, sharp objects, curbing) are the major causes of tire damage. However, many tire failures are caused by progressive damage. 
Each mile your tire rolls down the highway overloaded or underinflated, it may be suffering internal damage that's not apparent during a casual tire inspection. The day that the tire fails, you may be traveling empty or not moving at all. The tire simply will reach the point where the damage has exceeded its design limits. It may blow out or shed its tread. 
Tires do not heal themselves, so if they are damaged due to under-inflation, inflating them to the correct pressure may not prevent eventual failure.

What To Do If Your Tires Fail
If you experience a tire blowout, you better have your seat belt on because it can be a wild and bumpy ride

Your natural reaction is to apply the brakes, but don't do it! Michelin Tire Company recommends briefly pushing the accelerator to the floor (if traffic conditions allow) to regain momentum in the direction you are going and then gently taking your foot off the accelerator. Hold the steering wheel firmly and regain control. If you are on an expressway, move into the far right lane as quickly and safely as possible. Allow your vehicle to slow, without applying the brakes, to 10 to 15 MPH before pulling off the road surface.

Watch this video from Michelin, How To Handle An RV Tire Blowout:
And — remember — the #1 tip if you find yourself in the middle of a tire blowout is to remain calm. You can't predict the future, but you CAN prepare yourself for potential emergencies. Knowledge is power.

FMCA RV Club brings you this monthly tip to Enhance Your RV Lifestyle. Learn more at www.fmca.com or www.familyrvingmag.com.

This information is for educational purposes. FMCA shall not be responsible nor retain liability for RVer's use of the provided information. Prior to making any RV service decision, you are advised to consult with an RV professional. 

Get Your Article Published on Everything About RVing
If you have written an article about RVing, Camping or the Great Outdoors and you would like us to publish it on Everything-About-RVing.com, please visit our
Submit An Article Page.
Do you have any suggestions or comments on this topic?  You can add them to this page by using the comments section located near the bottom of this page.
LEARN HOW TO RUN 2 RV A/Cs ON A 30 AMP CONNECTION

Recommended Reading For You
Over 1,500,000 successful roadside rescues—Good Sam RV Emergency Road Service
Good Sam Travel Assist: Emergency coverage for you, your family, and pets. Plans Starting at $59.99 Shop Now!