FTC Disclosure: I get commissions for purchases made through some of the links in this article For more information, visit our Advertising Disclosure Page.
The Big Deal Sale – All Good Sam Roadside Assistance Plans Are 50% Off! Buy Now!
3 Tips for Transitioning to RV Life
Full-time RVing is becoming more and more popular every day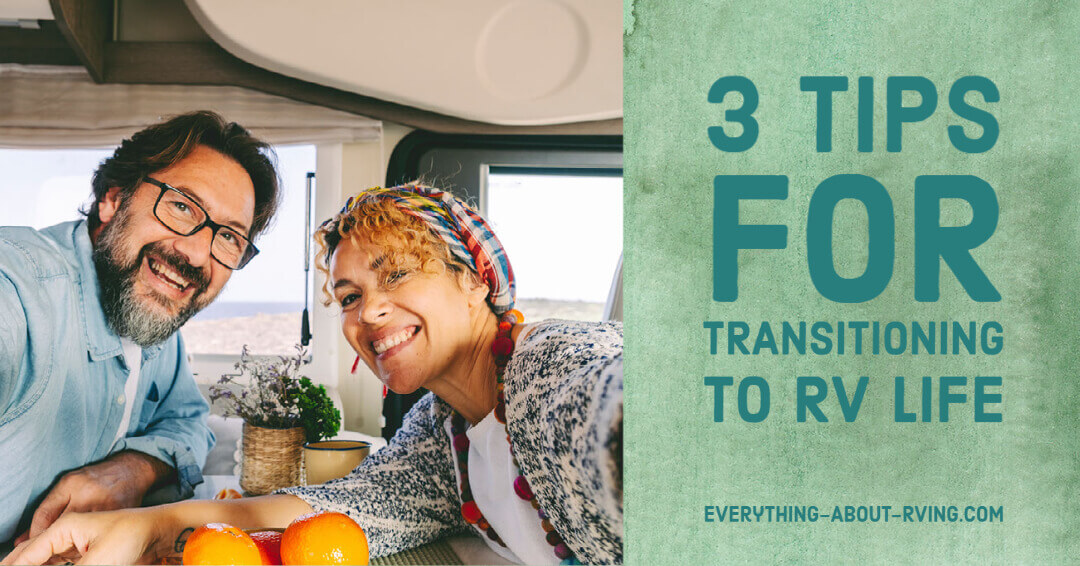 Full-time RVing is becoming more and more popular every day. With the onset of more remote working opportunities since the start of the pandemic, it's hard to deny the appeal of being able to work from literally anywhere. Although many people are interested in the personal freedom RV life affords, it is often difficult to figure out where to start to make the transition from land owner to land roamer. 
Get logistics squared away
The first thing you may want to consider doing is to ask work for clearance to become permanently remote. This is, of course, assuming that you plan on continuing your job on the road. If you're ready to pursue a career while being a full-time RVer or are looking at retirement, now is the time to do so. 

Next, you're going to want to find out how much your home is valued at on the housing market, or, if you rent, let your landlord know your intent to move out. Breaking a lease can be a lengthy process depending on your rental agreement, and selling your home is no easy feat, so try and plan according to when you'd like to begin traveling.
Another common struggle RVers initially have is managing their healthcare when on the road. It's a good idea to check in with your doctor's office, dental office, and any other healthcare provider you regularly see to update your records and plan future visits appropriately.

The Big Deal Sale – All Good Sam Roadside Assistance Plans Are 50% Off! Buy Now!
Plan your first trip
Once you've situated your affairs, the next step is buying your RV! You may have had your eyes on one in particular, or perhaps you're still shopping around for one that speaks to you and your needs. If you're adventurous and up for the challenge, you could try your hand at building a custom RV; however, this option would surely be the most labor and time-intensive.
To plan your first trip in your rig, download the RV Parks & Campgrounds app. This app finds RV parks throughout North America, so you don't have to worry about where to park when you reach your destination. There are other apps available that are popular for finding campsites, so test a few out and see which ones work for you.
Another thing to keep in mind is your RV's water storage. You never want to get caught in a situation where you run out of water while you're in a remote area! Depending on the size of your freshwater tank, gray water tank, and how much water you typically use, you're going to need to find ways to refill your water on the road. Some gas stations will have water spigots available or sinks you can run your hose through to collect water. Rest stops along the interstate typically offer water fountains but may not always be available because of COVID-19 precautions.

Join the Good Sam Club Today! The world's largest RV and Outdoor Community Club.
Reach your destination
Once you've secured your RV parking spot, the hard work is done! Now you can enjoy the luxuries of uninterrupted travel. Whether you're at the beach, in the mountains, or hiking in the desert, you can finally unwind and enjoy the views of sprawling landscapes. 
Socialize with your fellow RVer neighbors; maybe they can help give you ideas on places to explore in the area. Now's the time to take that cooking class you've always wanted to try or morning yoga on the beach. The world has become your oyster!

Conclusion
Transitioning to the RV lifestyle doesn't have to cause headaches or hurt your wallet. It's quite economical to travel by RV, and you'll save a lot of money avoiding hotel rooms or fancy resorts

Still unsure about becoming an RVer? Here are eight reasons why you should choose the RV lifestyle.
Get Your Article Published on Everything About RVing
If you have written an article about RVing, Camping or the Great Outdoors and you would like us to publish it on Everything-About-RVing.com, please visit our
Submit An Article Page.
Do you have any suggestions or comments on this topic?  You can add them to this page by using the comments section located near the bottom of this page.