FTC Disclosure: I get commissions for purchases made through some of the links in this article for more information, visit our Advertising Disclosure Page.

UAE RVing and Camping
UAE RVing and Camping - Places To Go
In the minds of many, vacation in the United Arab Emirates is primarily associated with luxurious five-star hotels, chic shopping malls, and expensive restaurants. However, not everyone likes such a vacation. Nature lovers can't live without picturesque natural places at a short distance from transport highways or in quiet urban suburbs. 

But don't despair. Dubai also has such a vacation. Travelers and locals can enjoy the beauty and climate of the Arabian Peninsula by staying at one of the campgrounds in the UAE.

What makes Campground different in the Emirates?
There are many campgrounds in the UAE, but they are all united by strict order and high-quality service. The country's government carefully controls this area of activity and carefully monitors that services are provided only by those travel companies that have special licenses. This is the key to the proper level of service.
One of the features of local campsites is strict adherence to the moral standards of Islam. There is a ban on the sale and drinking of alcohol and several other restrictions. If you are looking for a vacation with noisy discos, fun parties accompanied by loud music, and a river of cocktails, then it is better to stay in one of the hotels in Dubai. But for a quiet family vacation, acquainted with the peninsula's history, nature, and culture, campgrounds are perfect.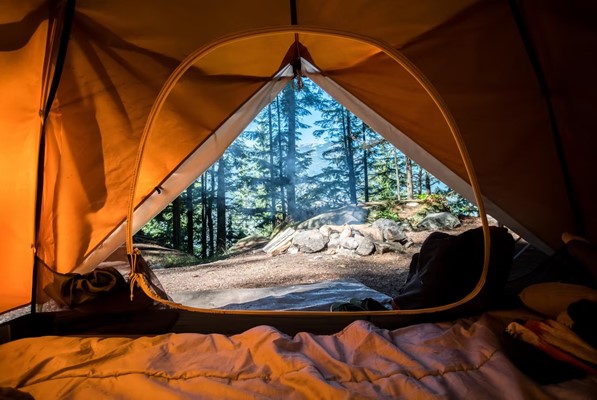 Types of campsites in the UAE
All campgrounds in the Emirates can be roughly divided into four groups according to the purpose of vacationers.

Coastal - designed for those traveling to the sea. They are located along the cleanest beaches, where you can not only swim and sunbathe but also practice diving, water skiing, surfing, and other sports.
In the desert - they are used as a base camp for those who decide to go on a desert safari
Within the city limits, stay here for those who have come to the Emirates for excursions, sightseeing, and shopping and do not want to spend extra money on luxurious hotel rooms.
Luxury campsites are for those seeking peace and privacy. In fact, they have equipped tourist places with accommodation in separate small villas.
Luxury campsites are often called glamping (glamorous campsites). They offer their guests various services such as spa treatments and entertainment, including falconry or camel farm excursions, etc.  
For example, in October 2021, a new tourist site Hatta Caravan Park will be opened in the mountainous area of Hatta. The attraction will be a luxury mobile home parking lot. Guests will have 11 custom-made vans: vehicles designed to accommodate families with children and equipped with every comfort, including a kitchenette, TV, and free Wi-Fi. 
Hatta is located 130 kilometers southeast of Dubai. The journey by car will take about an hour and a half. But if you rent an Infiniti QX80 for rent in Dubai, it will be even faster.
Dubai RV Parks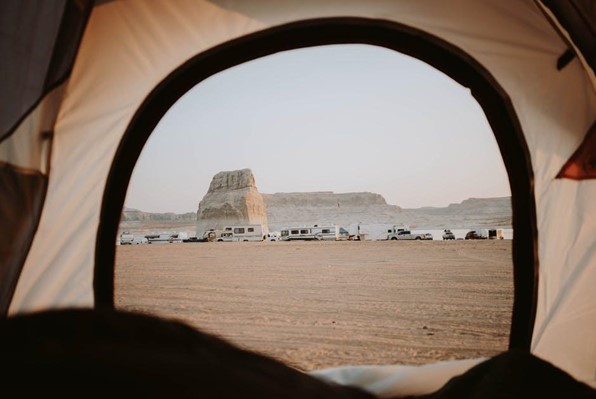 A campervan vacation in the UAE allows you to combine two things you know you will love: driving on the open road and having fun in Dubai. Whether you have your own trailer or are looking to rent one, caravan parks and campgrounds offer a relaxing break from the hustle and bustle of everyday life.
Not only will you be able to tour scenic highway sections near Dubai, but you'll also have everything you need to make your home away from home feel cozy and welcoming.
Most of the rented trailer parks in Dubai have the necessary water, electricity, and sewage connections, but luxury camper parks go above and beyond. Imagine taking part in public movie nights under the stars, roasting marshmallows over fun bonfires, and watching the sunset from the comfort of your trailer park in Dubai.
There is a reason many people choose to ditch traditional homes and live in an RV instead – because you have the freedom to explore, but you also have access to all the amenities you are used to.
Ready to get behind the wheel and jump into adventure? Book one of the many caravan resorts, and you still have the money to visit some of the city's most delicious restaurants, or take the chic Infiniti QX80 for rent in Dubai and drive around the city with sheer pleasure.

Shop Best Prices on RV Fridges, Kitchen Appliances, Griddles, Stoves, Gas Ranges, Fireplaces at Way Interglobal Today!
Get Your Article Published on Everything About RVing
If you have written an article about RVing, Camping or the Great Outdoors and you would like us to publish it on Everything-About-RVing.com, please visit our
Submit An Article Page.