FTC Disclosure: I get commissions for purchases made through some of the links in this article for more information, visit our Advertising Disclosure Page.
Complete Guide to Rv Window Blinds
Complete Guide to RV Window Blinds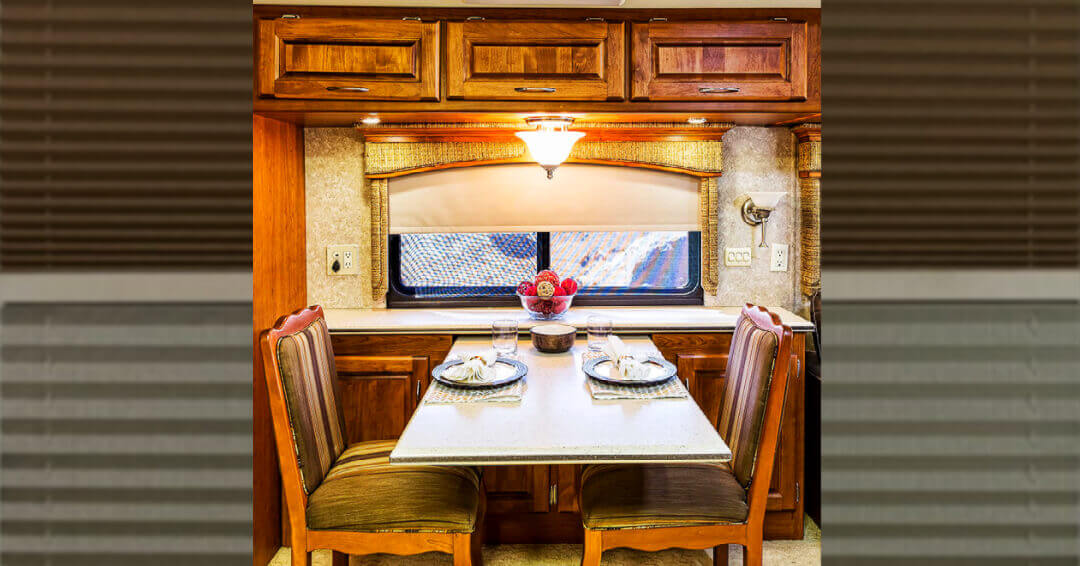 By John Robert
This complete guide to RV window blinds will guide you through the process of choosing the right window blinds and shades for your RV
Just like window blinds for your house, RV Window blinds are coverings made to fit RV windows to provide shade and privacy. These blinds are available in a variety of styles and colors, so it is easy to find window shades that are not only the right size for your RV, but also fit nicely into your RV's room designs. This complete guide to RV window blinds will guide you through the process of choosing the right window blinds and shades for your RV
Share This Page
Save 10% on campground fees when you become a Good Sam member Today!
Types of RV Window Blinds
Aluminum RV window blinds. 

Aluminum mini blinds

 are also available in an array of colors and most models include a simple device for opening and closing the slats, as well as raising and lowering the whole shade. These RV window blinds can be bought in a range of sizes and can often be cut to your specifications.
Pull-down, pleated blinds. These shades are made of a tough, stain-resistant fabric and can be found in day/night options. Day/night window blinds feature a sheer layer that can provide respite from the sun and privacy without concealing all-natural light for daytime use and an opaque layer for complete privateness at night. Pull-down blinds are available in several colors and open and close without trouble.
Advantages of RV Window Blinds
There are several reasons RV owners want to install window blinds to their travel trailer or motor home. RV window blinds are like the blinds and shades covering windows in our homes. A primary purpose of their use is to add fashion, style, and personality to your home away from home. There are plenty of styles and colors to want from, so it is easy to give your RV a personal touch. 
Window blinds are also the easiest way to get a sense of privacy inside your RV. RV camping is lots of fun, but most RV parks don't provide a great amount of privateness. While spending time with your camping neighbors is fun, there are times you need your own space. Window blinds can be lowered and closed so that no one can look inside your RV. 

These window coverings are the greatest way to protect your RV's interior from the harmful effects of ultraviolet rays from the sun. RV window blinds can shut off direct sunlight, so your furniture is protected from fading. They can also regulate the temperature inside your RV. 
The Downfalls of Window Blinds for Your RV 
Like home window blinds, those designed for RVs can be troublesome to keep clean. Pleated shades can simply be wiped clean with a damp sponge. While this type of blind is usually made of a stain resistant material, it is also much more susceptible to splatters and spills and may require more work than slatted blinds. Aluminum, slatted RV shades do require a more thorough cleaning process because each slat must be cleaned individually. It can also be hard to find RV window blinds for unconventional sized windows, often requiring custom cutting. 

How Much Are RV Window Blinds? 
Window blinds are a great enhancement to your RV, whether you're looking for some privacy or hoping to cool the inside of your motor home on a hot summer afternoon. A variety of styles, colors and sizes are available from outdoor outfitters and camping suppliers. RV window blinds are also available on the internet. These useful and beautiful window coverings can be found for as little as $30, while some RV window blinds cost more than $100. Professional installations will be more expensive.

Now that you have read the complete guide to RV window blinds you will be able select the right blinds for your RV.
Sign and Drive Coverage with Good Sam Roadside Assistance! Plans Starting at $49.95! Shop Now!
Per the Complete Guide to RV Window Blinds there are several types of RV blinds available on the market, each with its own set of features and benefits. Some popular types include:

Roller shades: These are a classic option that offer simple, clean lines and easy operation. They typically consist of a fabric or vinyl panel that is wrapped around a cylinder and can be raised and lowered using a cord or spring-loaded mechanism.
Pleated shades: These are a more modern option that offer a wide range of colors and patterns, as well as the ability to control the amount of light entering the vehicle. They consist of a fabric panel with accordion-like pleats, which can be opened and closed using a cord or spring-loaded mechanism.
Vertical blinds: These are a versatile option that can be used in a variety of settings. They consist of a series of vertical panels, which can be rotated to control the amount of light entering the vehicle. They are available in a range of materials, including vinyl and fabric.
Mini blinds: These are a more traditional option that is similar to Venetian blinds found in a house, the slats are made of metal, wood or plastic. They can be tilted to control the amount of light and privacy.
Roman shades: These shades are made of soft fabric, they are raised and lowered with a cord. They can be folded up in a accordion-like fashion. They can also be made from a variety of materials and come in a wide range of colors and patterns.
Cell shades: This type of shade is made of a honeycomb-like material that creates a layer of insulation to keep the RV cool or warm. They are available in a variety of colors and can be raised and lowered by a cord.
Blackout shades: These shades are designed to block out all light, they are great for privacy, and for creating a dark environment for sleeping. They can be made of a variety of materials such as fabric or vinyl.
Solar shades: These shades are designed to reduce the amount of heat and UV rays that enter the RV, they can be made of a variety of materials such as mesh or screen.
Motorized shades: These shades can be controlled by a remote or a phone application, this option can be useful for people with mobility issues or for those who want a more convenient way to control the light and privacy.
Each type of RV blinds has its own set of features and benefits
Roller shades are classic and easy to operate
Pleated shades offer a wide range of colors and patterns, and can control the amount of light
Vertical blinds are versatile and available in a range of materials, including vinyl and fabric
Mini blinds are similar to Venetian blinds in a house
Roman shades are made of soft fabric and can be folded up in an accordion-like fashion
Cell shades are made of honeycomb-like material for insulation
Blackout shades are designed to block out all light for privacy and sleeping
Solar shades are designed to reduce the amount of heat and UV rays that enter the RV
Motorized shades can be controlled by a remote or phone application
Per the Complete Guide to RV Window Blinds; RV blinds are important for a number of reasons. They provide privacy and security while traveling, they help to block out sunlight and heat, and they can also help to improve the overall look and feel of the interior of the recreational vehicle. Additionally, RV blinds can be used to control the amount of light and heat entering the vehicle, which can help to reduce energy costs and improve overall comfort.

RV blinds provide privacy and security while travelling
They help to block out sunlight and heat
They can improve the overall look and feel of the RV interior
They can control the amount of light and heat entering the vehicle which can reduce energy costs and improve comfort
Per the Complete Guide to RV Window Blinds; RV blinds, also known as recreational vehicle blinds, are window coverings specifically designed for use in recreational vehicles, such as motorhomes, travel trailers, and fifth-wheels. These blinds are typically made from durable materials, such as vinyl or aluminum, and are designed to withstand the wear and tear of travel and frequent use. Some common types of RV blinds include roller shades, pleated shades, and vertical blinds.

RV blinds are window coverings designed for use in recreational vehicles
They are typically made from durable materials such as vinyl or aluminum
They are designed to withstand the wear and tear of travel and frequent use
Follow Us
Return to the RV Lifestyle Articles page from the An Introduction To RV Window Blinds page