FTC Disclosure: I get commissions for purchases made through some of the links in this article for more information, visit our Advertising Disclosure Page.
Favorite RVing Destinations
Here's where other RVers like to go, you can also share your favorite RVing destinations
Scroll down and You can learn about the favorite RVing destinations that have been submitted to us by other RVers or you can share your own Favorite RVing destination by filling out the form below.

Share This Page
Follow Us
Roamly RV Insurance - Created By RV Owners Like You
RVing in the Everglades National Park: The Everglades National Park is the largest subtropical wilderness in the United States. Due to the incredible beauty and majestic scenery of the Everglades National Park, around one million people visit it each year. The incredible beauty and majestic scenery make RVing in the Everglades National Park a great RVing adventure.
Spooky Places to Visit on your Next RV Trip: Here are some spooky places to visit on your next RV trip. The leaves are changing color, it's the beginning of autumn and the spooky season is closing in. Americans love to be scared and the haunted house is a Halloween season staple. But these real-life haunted destinations in the U.S. aren't just fleeting autumn pop-ups. These haunted locations are in towns across the U.S., are the crime scenes for true tales of ax murders and massacres, lost children, and angry demons and ghosts.
The Top 9 Scottish RV Destinations: Scotland has things for everyone to enjoy. However, some places in Scotland are best enjoyed by an RV. An RV allows you to travel around the country at your own pace and enjoy things the way you like them.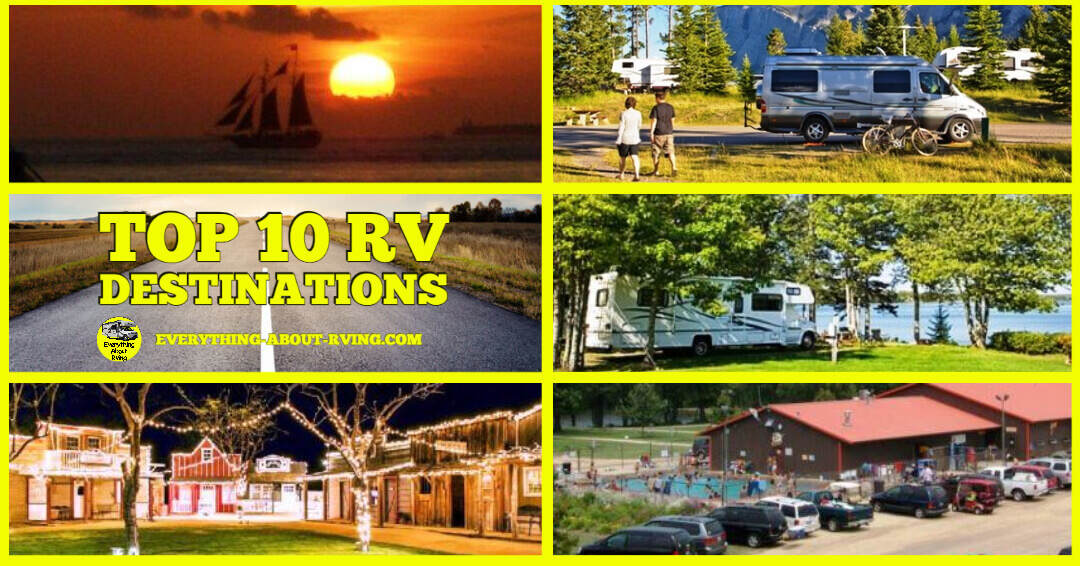 Top 10 RV Destinations: In our opinion, these are the top 10 RV destinations in the US. Read on to learn why we believe these destinations belong in the top 10. Answer the call of the open road by visiting one of these top 10 RV destinations
Tell us all about where you like to camp or visit when RVing.
Tell us all about your favorite place to visit when you are camping or RVing. Your story can be about your favorite campground, favorite city, favorite attractions, etc. Let other RVers and campers know exactly what they must see and do while visiting your favorite destination and don't forget to add some pictures.
See Our Other Visitors Favorite Destinations
Click below to see the stories about favorite destinations from other visitors to this page...

An RV is a vacation home on wheels with one exception. One day you are in the mountains; the next day you could be at the beach. Try that with a vacation home. Recreation Vehicles come in all shapes and sizes. If you are looking for accommodations like those found in some of the best hotels in the world you may want to look at a Class A Motor Home or Fifth Wheel Trailer. If you want a more rustic experience, you might want to look at a Tent Trailer.
Regardless of which type of Recreation Vehicle you choose; you may find that vacationing in an RV provides more time to relax and bond with your family. While traveling in an RV, getting to your destination is half the fun. You will be surprised by some of the interesting places you run into along the way.
Going camping in an RV is an option you should consider for your next vacation. The reason is simple, it will allow you to slow down and unwind. When you go RVing you don't have to worry about missing a flight, losing your luggage, or renting a car. You do not even have to worry about unpacking your luggage, as everything you need is already in the Recreation Vehicle.  If you are a pet owner, you no longer have to worry about kenneling your pet because they can go RVing with you.

We hope this has has piqued your interest in taking your family on a RV Vacation Adventure. We're sure that you have many questions and that's why we are here.
If you look at the right side of this page you will see what is new at EARV. You can follow us on FaceBook, and follow us on Twitter.

Shop Best Prices on RV Fridges, Kitchen Appliances, Griddles, Stoves, Gas Ranges, Fireplaces at Way Interglobal Today!
Get Your Article Published on Everything About RVing
If you have written an article about RVing, Camping or the Great Outdoors and you would like us to publish it on Everything-About-RVing.com, please visit our
Submit An Article Page.